UNITED WAY GHANA 2023 FIRST QUARTER NEWSLETTER
Posted on 2023-04-10
Table of Contents:
Welcome Remarks from Executive Director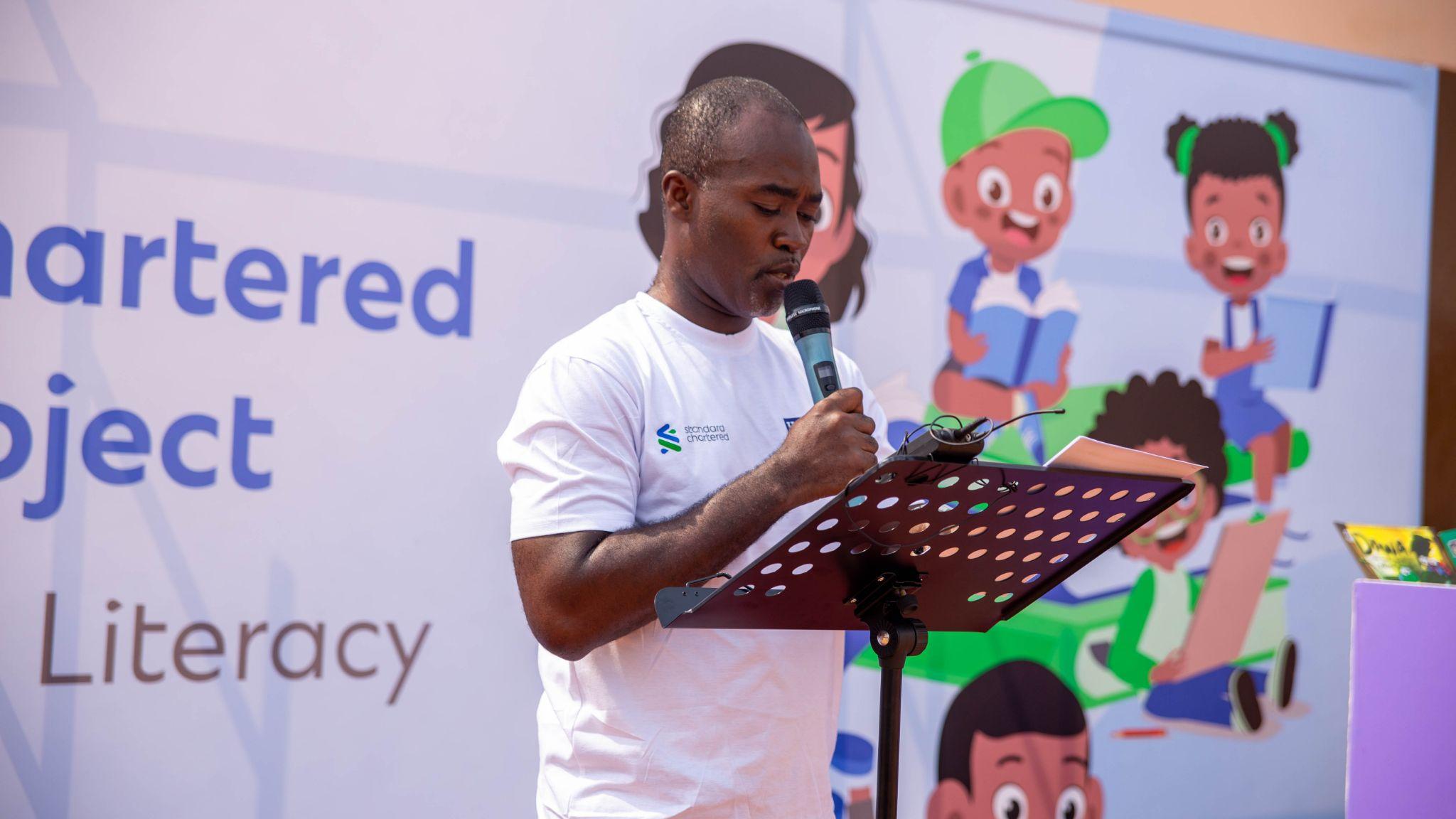 Dear friends, as we gradually transition into the so-called "new normal", we are all geared up to revive our collective effort to improve the lot of the many whose conditions have been made worse by the pandemic. Due to this pandemic, a lot more young learners had descended the abyss of basic reading difficulties that was brought on by the school breaks and not helped by the "rush" to recover academic calendars and curriculums in schools. An even greater number of persons within our communities that were mostly underemployed have joined the teaming number of unemployed persons due to employee layoffs in the formal sector and the lack of credit in the informal sector. Increasingly, the expectation of private sector actors like United Way Ghana to support the government is becoming more critical and the United Way approach to sustainable change by mobilising the caring power of the communities, even more significant.
We appreciate all the well meaning individuals, associations and organisations that have joined the mobilisation effort in the first quarter of 2023 to create the change we seek by giving, volunteering their time and advocating causes to make a difference in the lives of underserved basic school children through our improving literacy programs, mentorship, practical STEM education and school environmental clubs. Others are actively partnering with United Way Ghana to support the economic mobility of the teaming unemployed and underemployed persons through our community specific Economic Empowerment program.
United Way Ghana will focus this year 2023 on increasing interactions and engagements with the communities, invest in quality data systems (that supports the quality of the interventions) and rally more individuals, corporate entities and philanthropists to exhibit their altruistic nature through the trusted United Way approach to - "Give, Advocate and Volunteer".

1. VIVO ENERGY GHANA AND UNITED WAY GHANA LAUNCH AN ENVIRONMENTAL CLUB AT LA ENOBAL BASIC SCHOOL IN LA - DADEKOTOPON MUNICIPALITY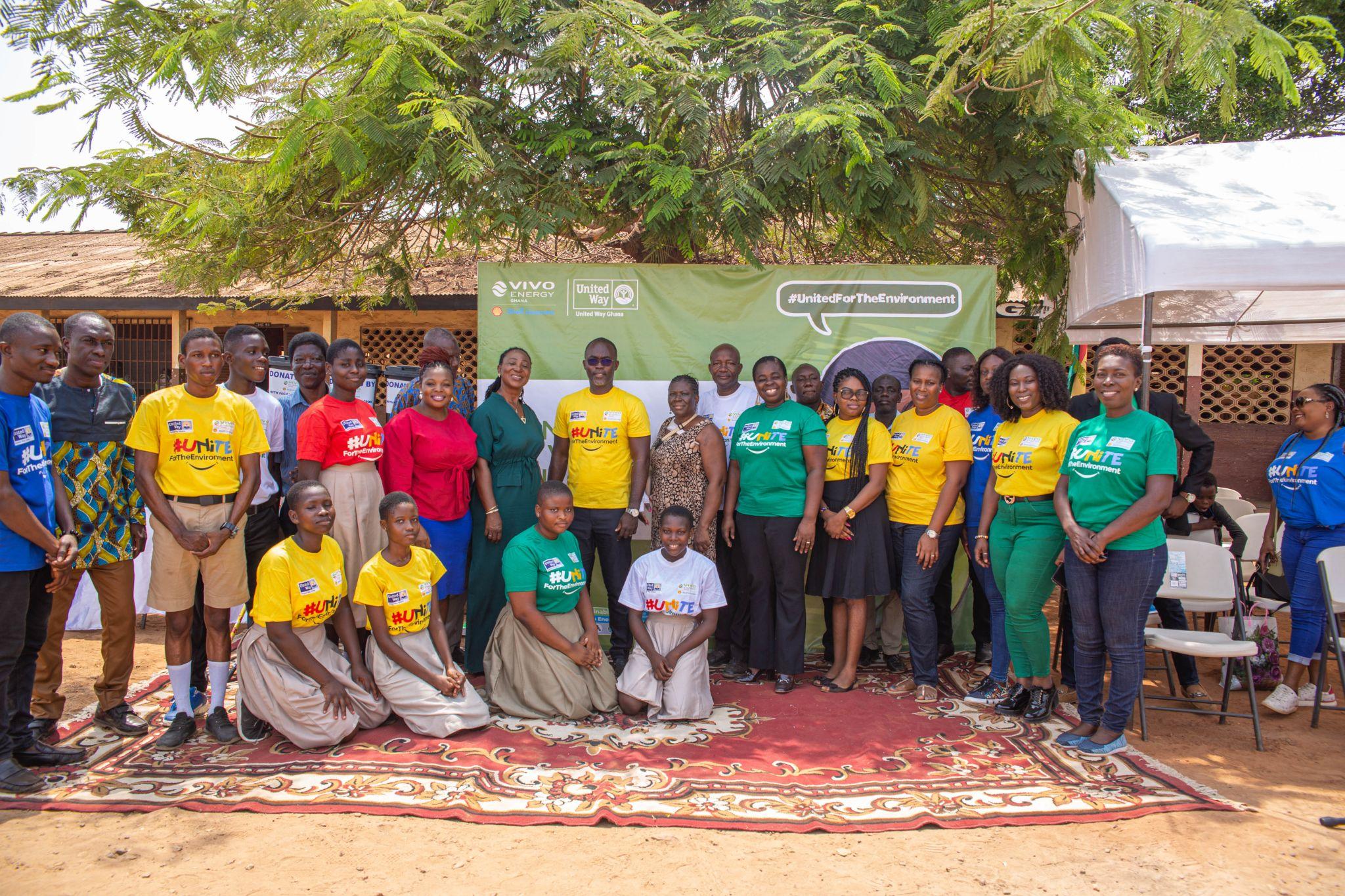 "The greatest threat to our planet is the belief that someone else will save it." - Robert Swan.
Vivo Energy Ghana, in its commitment to achieving the UN Sustainable Development Goals (SDGs), SDG 4: "Quality Education." SDG 6: "Water and Sanitation," and SDG 17: Partnership for the Goals, collaborated with United Way Ghana to launch the Vivo Energy Ghana Environmental Club project with the theme "Promoting Environmental Sustainability" at the LA Enobal Basic School on Thursday, February 9, 2023.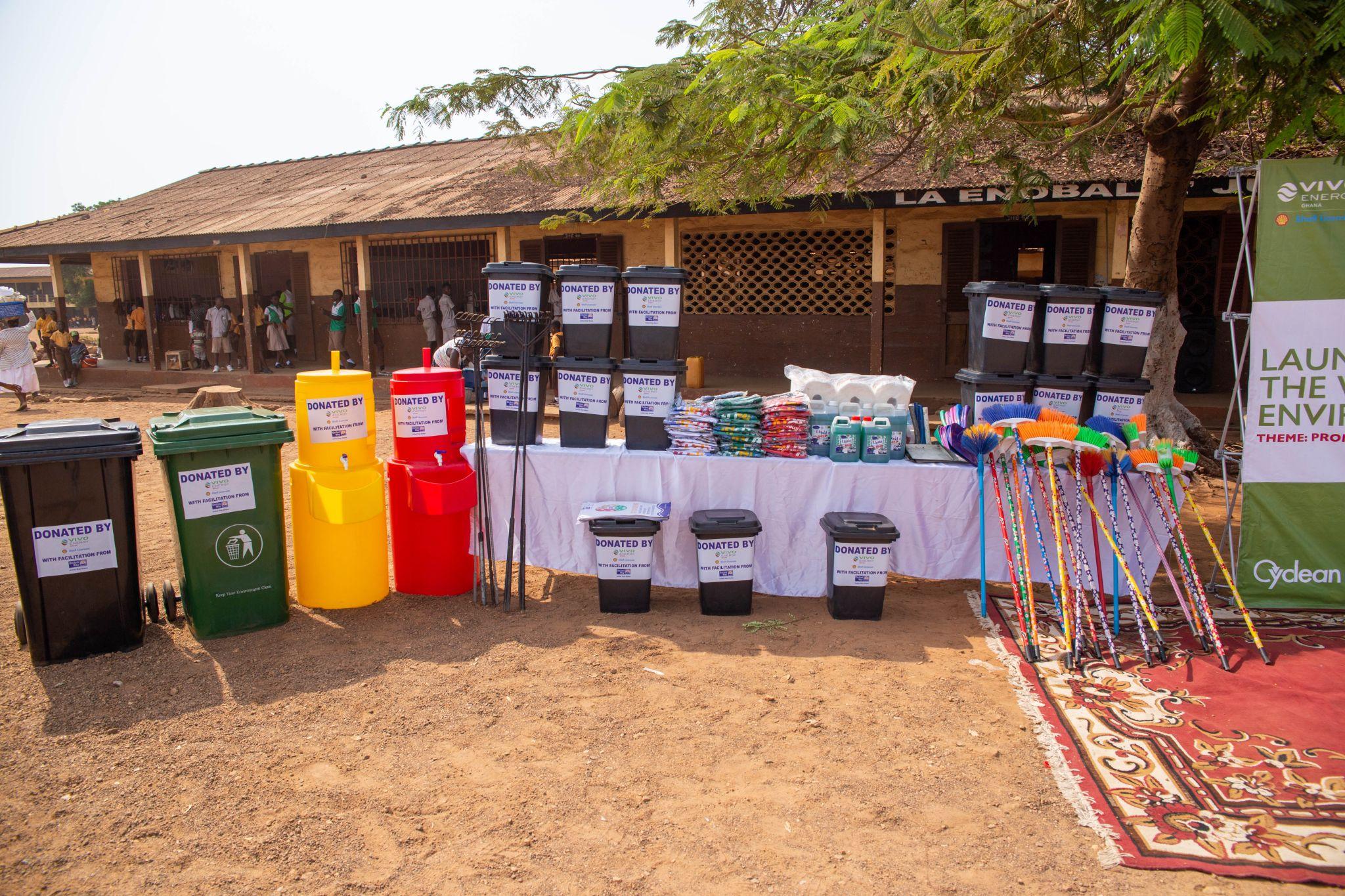 In an address, the Executive Director of United Way Ghana, Mr. Felix Kissiedu-Addi urged all young learners, and teachers of the club to ensure that they performed the objectives for which the club was set up. He indicated that it would be of great benefit to them in the near future.
The Human Resource Manager of Vivo Energy Ghana, Mrs. Mercy Amoah said "We believe that creating public awareness and educating people, especially children on how to preserve the environment is the foundation for a sustainable world for us and future generations. For these reason, we are pleased to be launching this programme with United Way Ghana and donating big dustbins, 20 small dustbins for each class, 8 rakes, 16 dustpans, 16 standing brooms, 2 scrubbing brushes, 4 ceiling brushes, 2 handwashing stations, hand-washing soaps and tissues to support the club and the young learners with access to adequate and functional hand washing stations, resources for proper waste collection and disposal, tools to recycle waste items from the environment and ignite their creativity to beautify the school environment.
This backed Vivo Energy Ghana's commitment to promoting Sustainable Cities and Communities (SDGs 11) and Responsible Consumption and Production (SDG 12), target 12.5 - of substantially reducing waste generation through prevention, reduction, recycling, and reuse and formed part of the Vivo Energy School Environmental Program under the Vivo Energy Ghana Cyclean Initiative.
The Municipal Director - Ghana Education Service, Madam Habiba Kotomah in her address thanked Vivo Energy Ghana and United Way for choosing the La Enobal School as the first beneficiary of this initiative. She said "This programme is one that we have always yearned to initiate in the schools within this municipality, and I am tremendously excited about the launch of this important programme which I hope and know will transform not just individual lives but the community as well,"".
She also called on Vivo Energy Ghana and other corporate bodies to help in building WASH facilities for the municipality's needy schools.
Club Activities

The club began with about 50 young learners, including five teachers from the school. After the launch the number has increased to 100 young learners. The club members meet once weekly on Fridays to discuss sanitation and environmental practices including waste segregation. The young learners also engaged in a cleanup exercise around the school which saw over 100 students of the school come out to clean the school and its environs. They have also recycled items such as used sachet rubbers into environmentally friendly shopping bags and plastic gallons into tools boxes.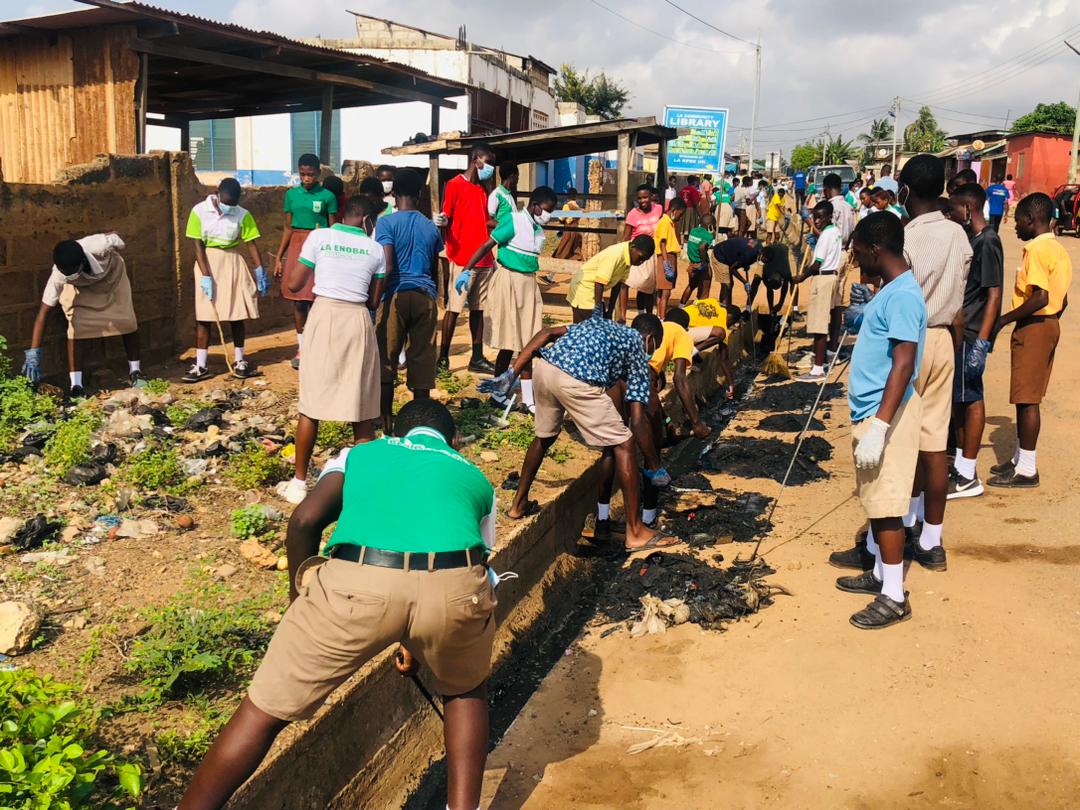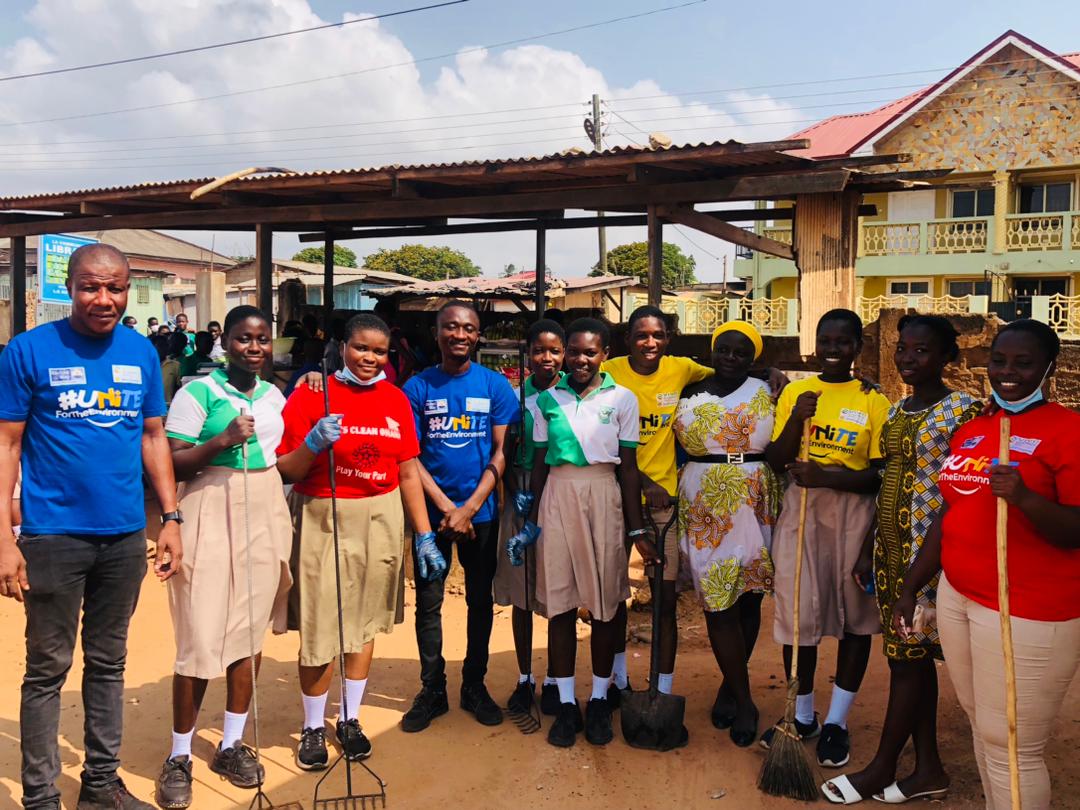 2. STANDARD CHARTERED BANK AND UNITED WAY GHANA SET UP READING CLUB PROJECT IN 4 BASIC SCHOOLS WITHIN THE AYAWASO EAST MUNICIPALITY.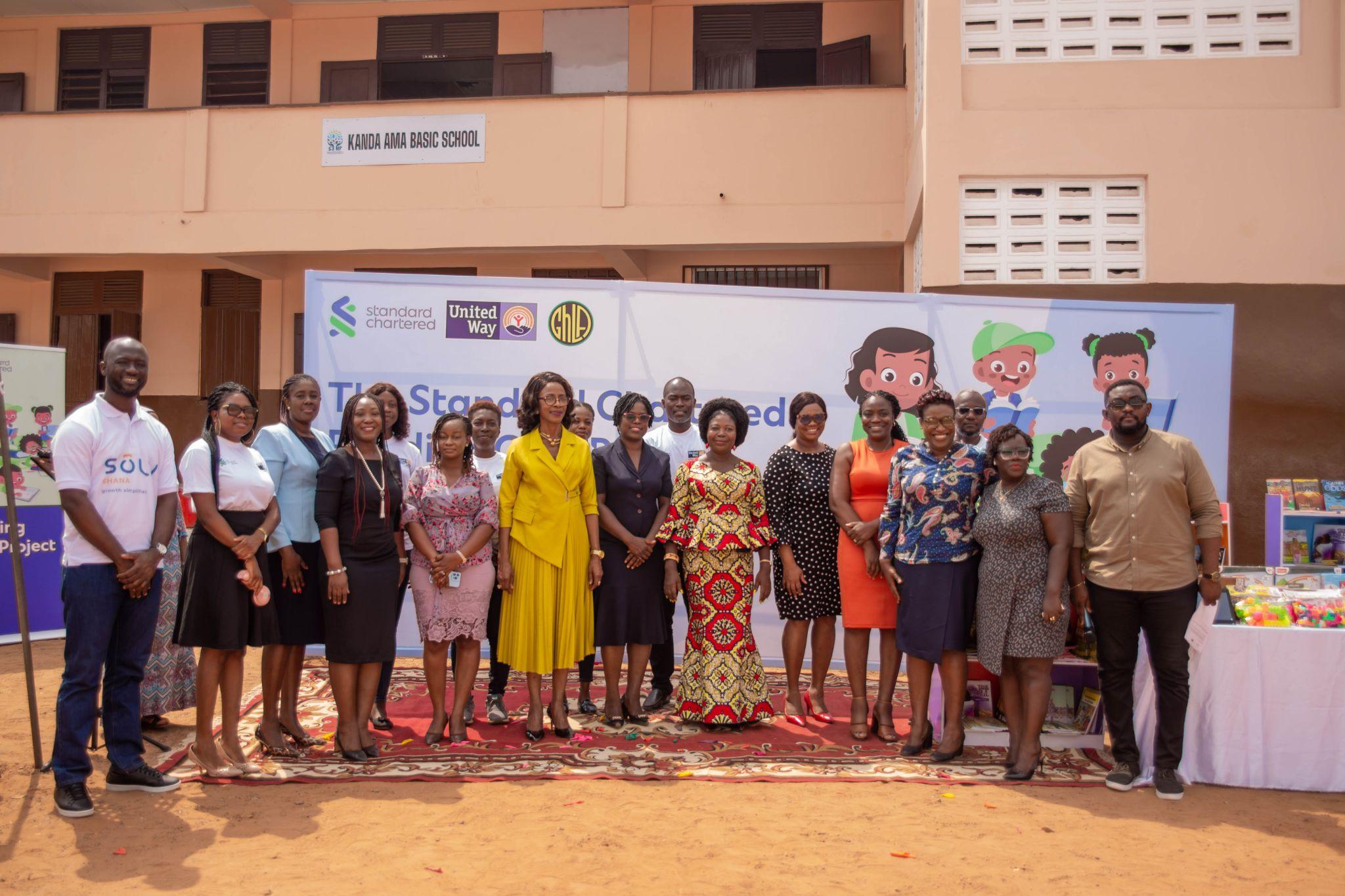 Basic literacy skills: reading and writing enriches an individual's life and opens doors for several opportunities for skills development for economic stability. In view of this, Standard Chartered Bank Ghana PLC in partnership with United Way Ghana and with support from Ghana Library Authority launched the Reading Club project in four schools within the Ayawaso East Municipality. Beneficiary schools are the Kanda AMA Basic, Islamic Training Institute Basic, Kanda Estate 3 & 5, and the Ring Road Basic School under the theme "IMPROVING CHILDHOOD LITERACY".

This project forms part of United Way Ghana's Improving Basic Education Project strategy which is ensuring that all children of school age are enrolled in school at the right age and have access to the required resources and engagements to promote lifelong learning.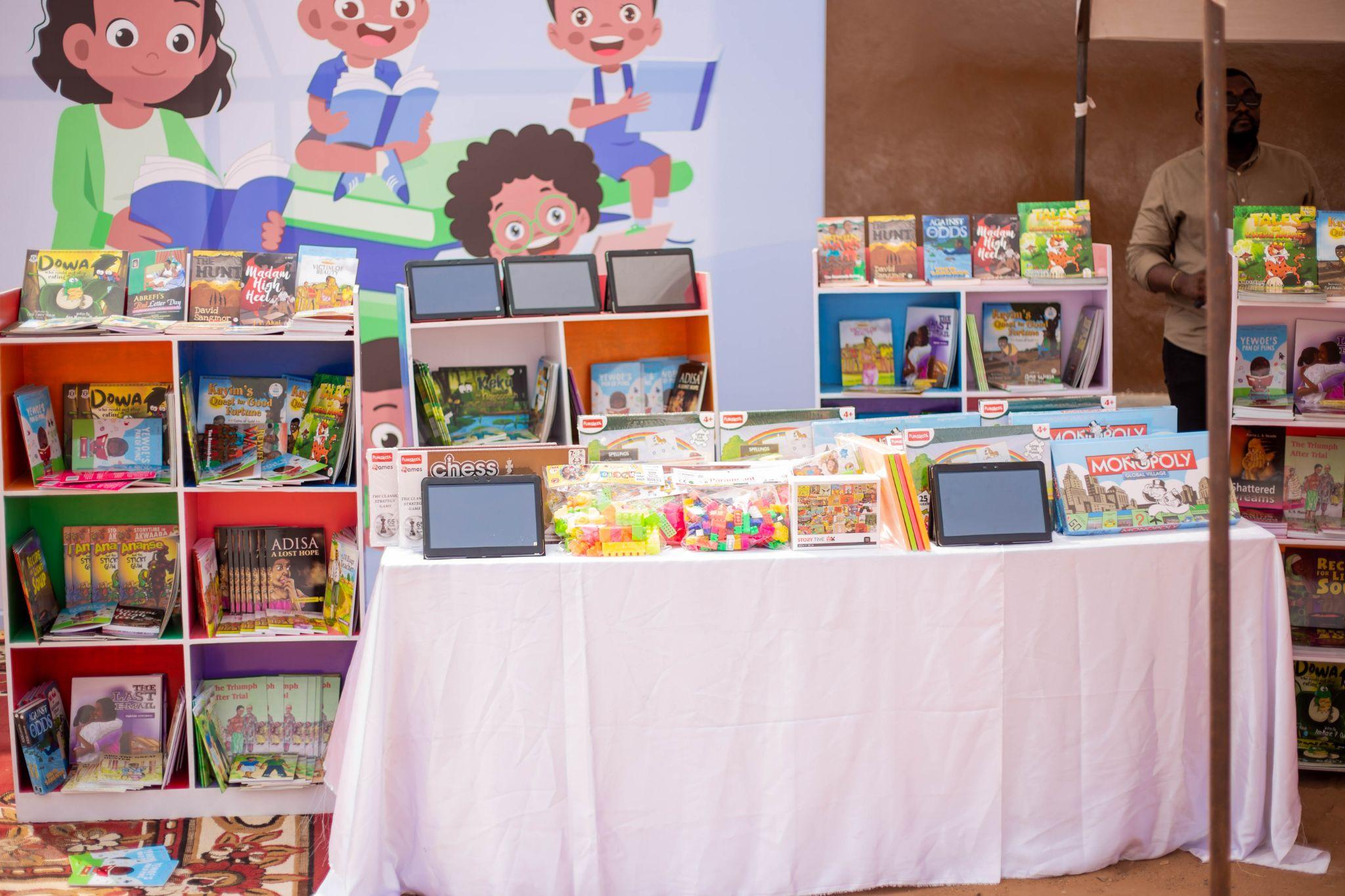 Ms. Angela Okai, Company Secretary, Standard Chartered Bank Ghana PLC launching the programme, said, "We believe that helping our children acquire reading skills at an early age will not only expand their vocabulary but build their self-confidence, make them creative and help them to acquire a habit of life-long learning. Beyond the children, we would also build the capacity of teachers, providing them with resources to enable them to support the children ensuring the sustainability of the project."
After an assessment conducted by the team, it was discovered that only 40% of young learners could read and understand what they read. Key expected outcomes from this project is to have at least 80% of the young learners being able to read books at their class level and understand what they read by the end of 2023.The Reading Project will run for a period of 36 weeks, from February 20, 2023, to December 4, 2023.
Activities such as teachers' capacity enhancement, assessments on young learners' literacy levels, and periodic literacy engagements with employees from the Bank, volunteers from the community, and class teachers have been outlined for the year.To ensure that all engagements are effective, the engaging schools will be provided with relevant literacy materials comprising age-appropriate books, literacy board games, jigsaw puzzles, Flash Cards and Chess Games.
3. UNITED WAY GHANA AND INTERNATIONAL JUSTICE MISSION GHANA LAUNCH ANTI-HUMAN TRAFFICKING PROJECT AT SENYA- BERAKU.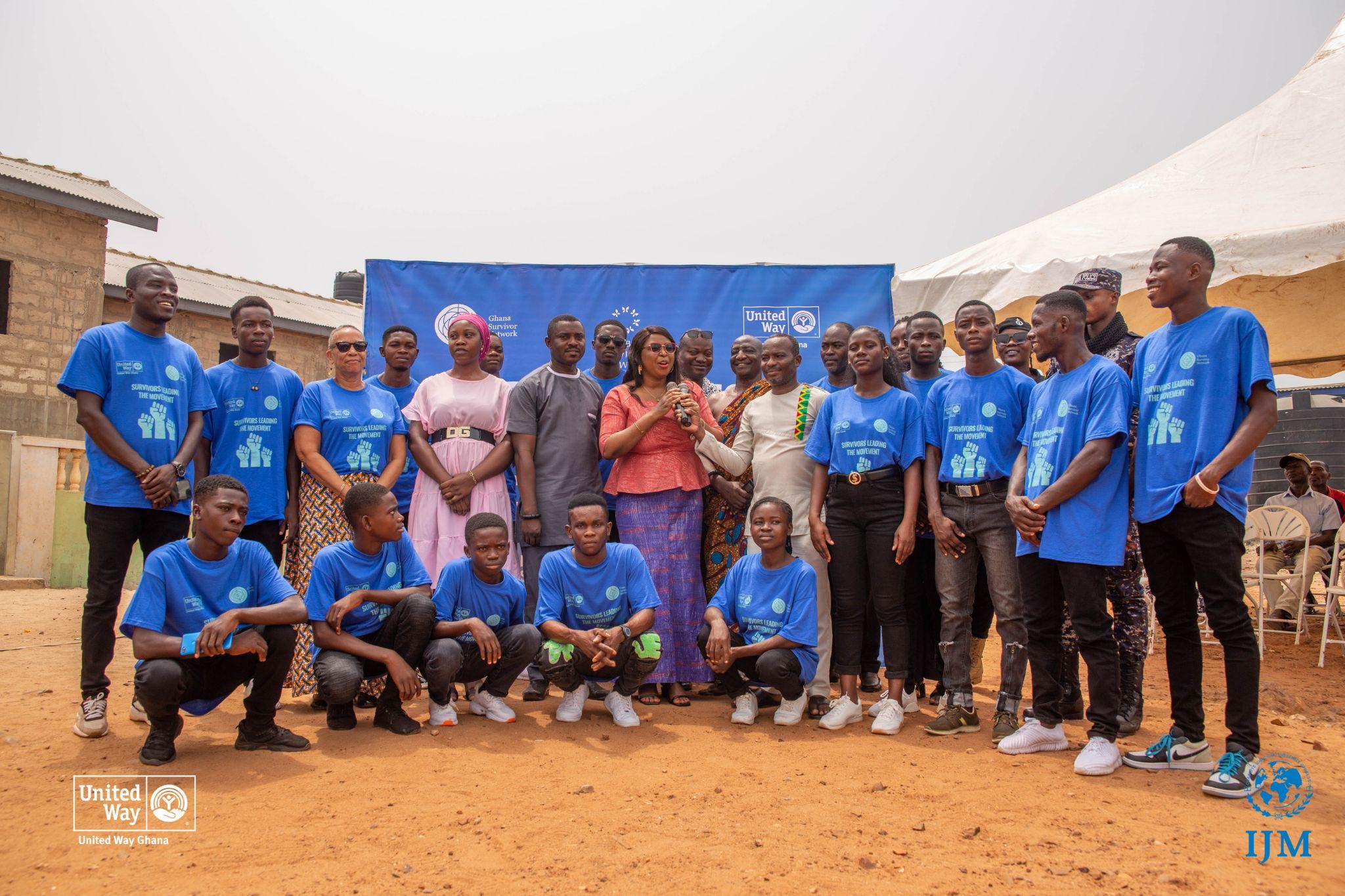 Seth - " I was seven-years old when a certain man took me from my own father to work on a lake with him. We are ready to fight with all our strength against child trafficking".

Kwesi - "I was very young and I used to go fishing with my mother"
These are some stories shared by some survivors of human trafficking in Ghana.
Human trafficking affects several nations across the globe. Ghana has a history of serving as a country of origin, passage, and final destination for men, women, and children who object to forced labour and sex trafficking. Approximately 22% of children in Ghana are engaged in child labour, of those children, about 60% of them have been trafficked on Lake Volta.
To help curb this problem, United Way Ghana in partnership with International Justice Mission Ghana launched the Ghana Survivor Network, an Anti-Child Trafficking project at Senya-Beraku in the Awutu-Senya District of the Central region of Ghana on Wednesday, February 23, 2023.
The project aimed at creating awareness about human trafficking, providing educational and economic support to survivors of human trafficking, as well as equipping them for the fight against human trafficking in Ghana.
The theme for the launch was "Ending Human Trafficking, Survivors Leading the Movement". The Anti-Child Trafficking Project is also to form an advocacy group to combat child trafficking in underprivileged communities in Ghana. The survivor network provides a platform for survivors to come together and share their stories and also encourage one another. It is also a strong force for advocating for change. The Courageous Crew is the survivor network, a group of individuals who have survived violence or abuse.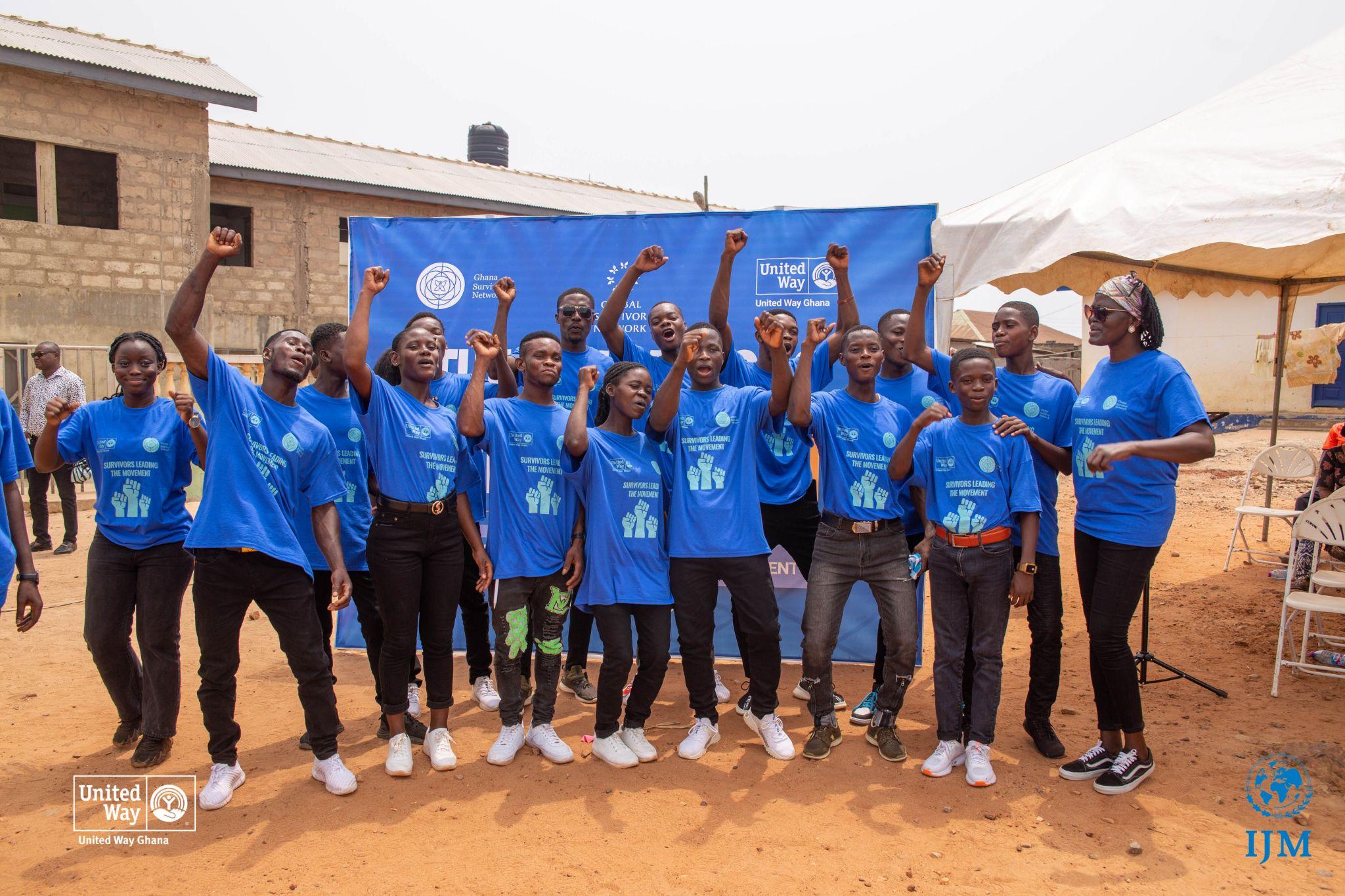 There were also survivors from Ada, Ho and Senya-Beraku making up a total of 21 survivors. Each survivor was awarded a certificate of membership to the Ghana Survival Network.

This joint project shows United Way Ghana's commitment to supporting the individuals that have gone through such unpleasant and highly traumatic experiences. So far, two young victims of human trafficking have been rescued since the launch of the project.
The survivors have also undergone a series of training on the Power of Storytelling and Advocacy which will help them inspire change in their communities.
Message from Survivors - The Courageous Crew.
"We are happy that we have survived through the help of IJM Ghana and United Way Ghana. We are also asking for help to advocate against human trafficking. We want all victims to enjoy the freedom that we are all enjoying now"
Parents were also admonished to desist from engaging in child trafficking as it is against children's rights and they could be arrested for such act. Per the Children's Act , Section 6, Act. 2 "Every child has the right to life, dignity, respect, leisure, liberty, health, education and shelter from his parents".
The event was attended by representatives of the Local Council of Churches, the Ghana Police Service, the District Coordinating Director, the District Director Ghana Education Service, Chief of Senya Beraku.
4. STANDARD CHARTERED BANK GHANA PLC PARTNERED WITH UNITED WAY GHANA TO COMMEMORATE INTERNATIONAL WOMEN'S DAY 2023 WITH 100 GIRLS.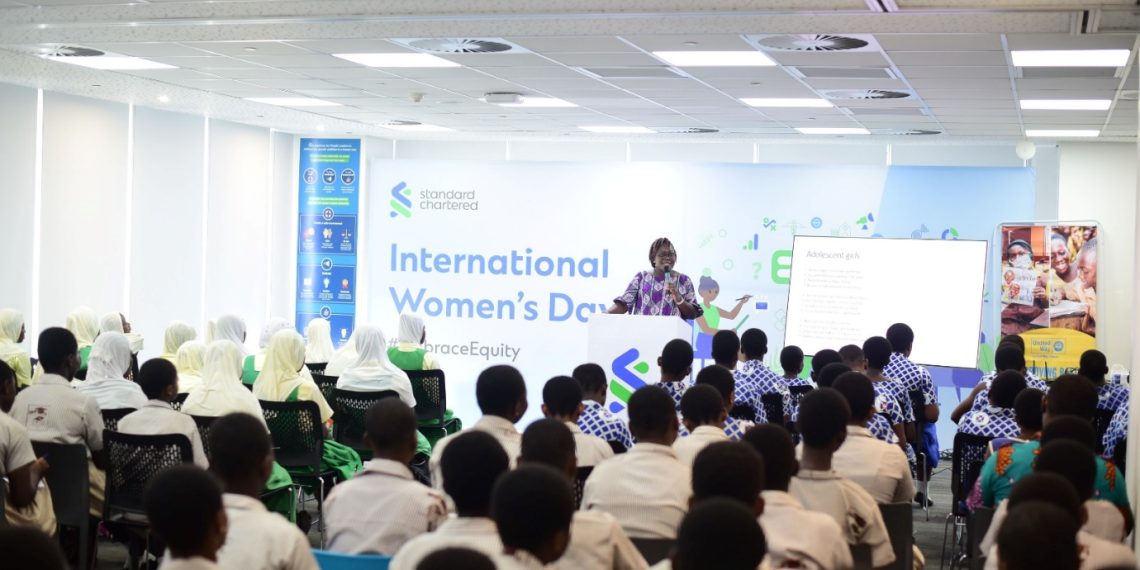 Standard Chartered Bank Ghana PLC shares a commitment with United Way Ghana to transform the lives of girls and young women through life skills education and financial literacy to bring about economic prosperity and year long learning.
Commemorating the 2023 International Women's Day on 8th March, close to 30 female employees of Standard Chartered Bank Ghana PLC hosted 100 school girls at their head office. The girls were engaged in coaching activities to empower them to embrace equity. These girls were selected from five (5) beneficiary schools namely; Osu Presby School, Kanda AMA Basic, Islamic Training Basic, Kanda Estate 3 & 5 and Ring Road Basic School.
This partnership forms part of the Bank's and United Way Ghana's interventions to promote sustainable development goal 4 - Quality education, goal 5 - Gender Equality, and goal 10 - Reduced Inequalities. The event addressed relevant issues of gender equality, gender-based reproductive health and empowering adolescent girls to reach for the stars. For the first part of the program, the female staff of Standard Chartered Bank engaged the young girls in small groups of coaching sessions.
Mrs. Yvonne Gyebi, Head, Consumer, Private and Business Banking at Standard Chartered Bank in her address to the young girls encouraged them in these words "At a point, I was the only lady in the team of men, so it is possible, all you need is confidence, courage, and not giving up on your dream. Have clear goals and be determined and focused".
A health talk was also given by Dr. Betty Banker, Manager at the Adolescent Clinic, Ridge Hospital in Accra. Topics discussed included physical, biological and psychological health as well as menstrual hygiene. Each girl received a 'Girls Kit' made of sanitary pads and a deodorant stick.
The Executive Director of United Way Ghana, Mr Felix Kissiedu-Addi said "United Way Ghana is committed to ensuring that girls and women receive the right information and resources at the right time to give them a good start for success. United Way Ghana's partnership with Standard Chartered Bank Ghana PLC on this project demonstrates our commitment to develop cross-sector collaborations with local communities and business organizations to deliver lasting impact and social change.
5. WOENAM FOUNDATION PARTNERS UNITED WAY GHANA PARTNERS TO CELEBRATE INTERNATIONAL SCHOOL MEALS DAY AT AYEBENG MEMORIAL A & B PRIMARY SCHOOL.
Nutrition is an important part of every child's education as it helps with their mental and physical development. Woenam Foundation partnered with United Way Ghana to celebrate International School Meals Day on the 9th of March, 2023 at the Ayebeng Memorial A & B Primary School.

This initiative was birthed by Yenam Ocloo, an eleven-year-old grade 6 student of Eden International School and the co-founder of Woenam Foundation. The event aimed at encouraging children to have discussions about the importance of healthy foods to help with child learning and growth and taking action towards the achievement of UN Sustainable Development Goal 2 — Zero Hunger.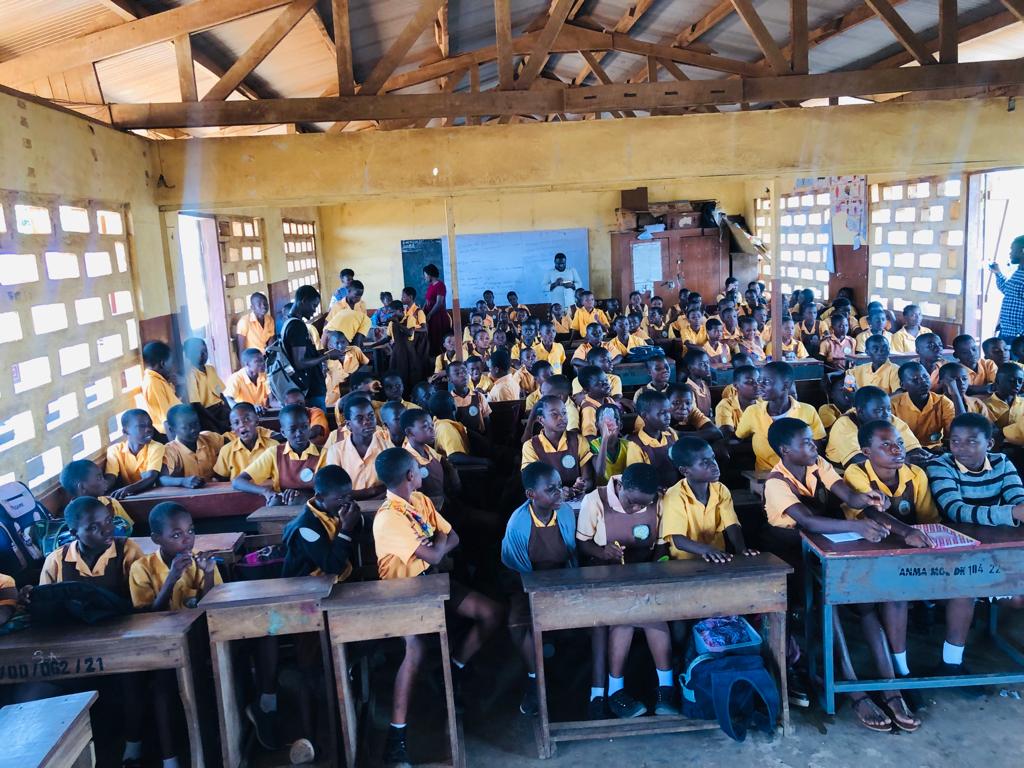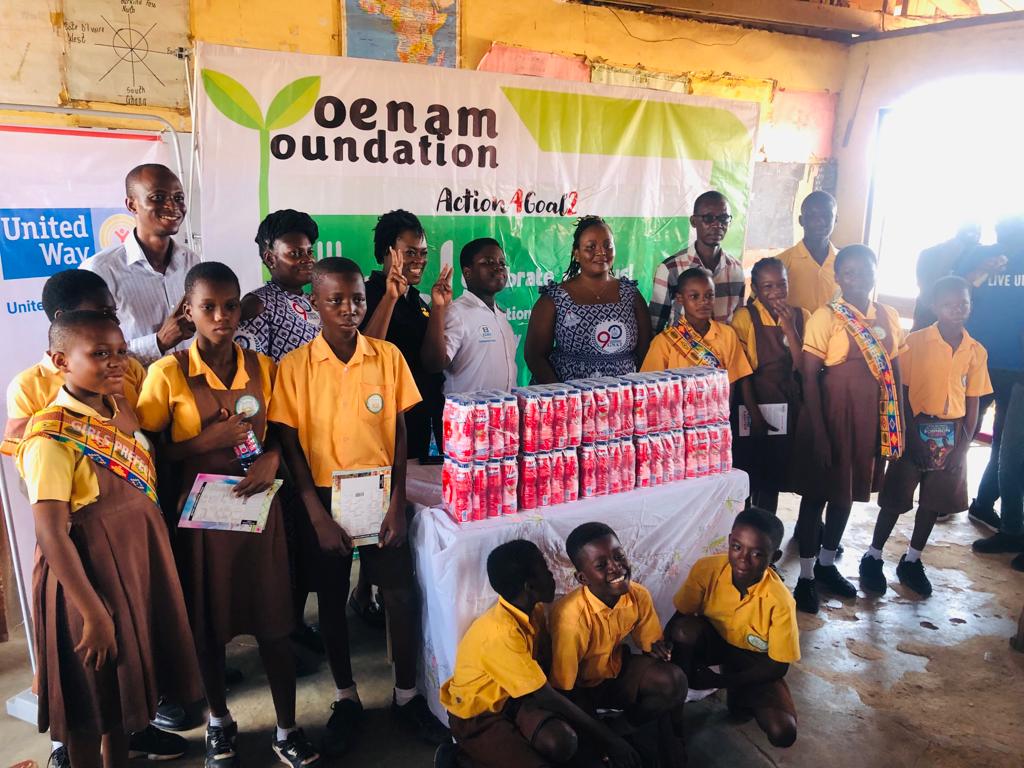 The young learners from classes one to six were engaged in an inter-class quiz competition on nutrition and received prizes of books from Yenam at the end of the contest. Also, over 300 young learners were nourished with fortified FanMaxx yoghurt to go with their meals.

The program was supported by FanMaxx, businessghana.com, Topdog, and Dealz Market.
The International School Meals Day (ISMD) is a special program with the aim of raising awareness of good nutrition for all children regardless of their circumstances. It was started by children in Scotland in the year 2013 .
6. MAFRICOM GHANA LTD. DONATES MILK DRINKS TO UNITED WAY GHANA.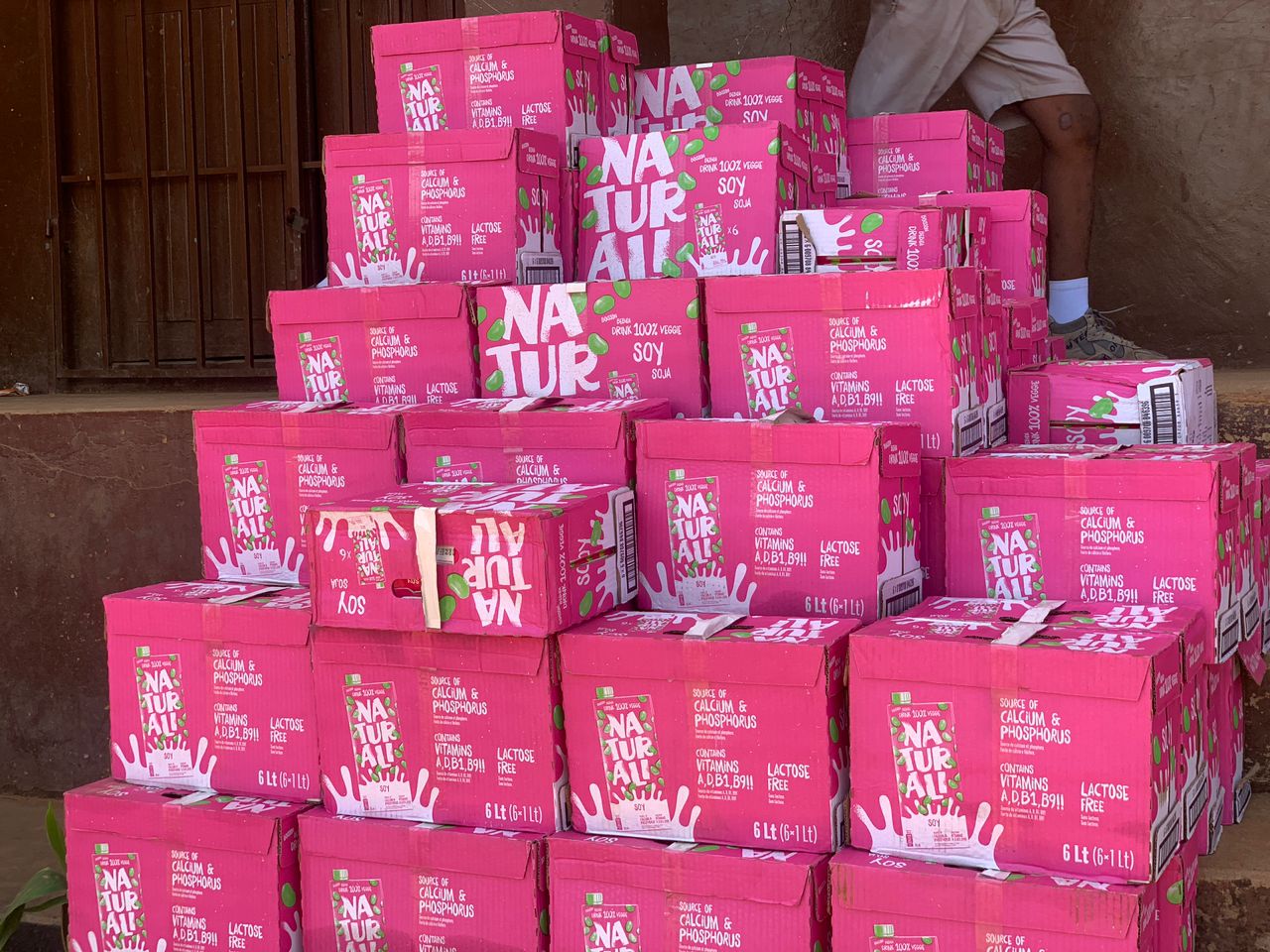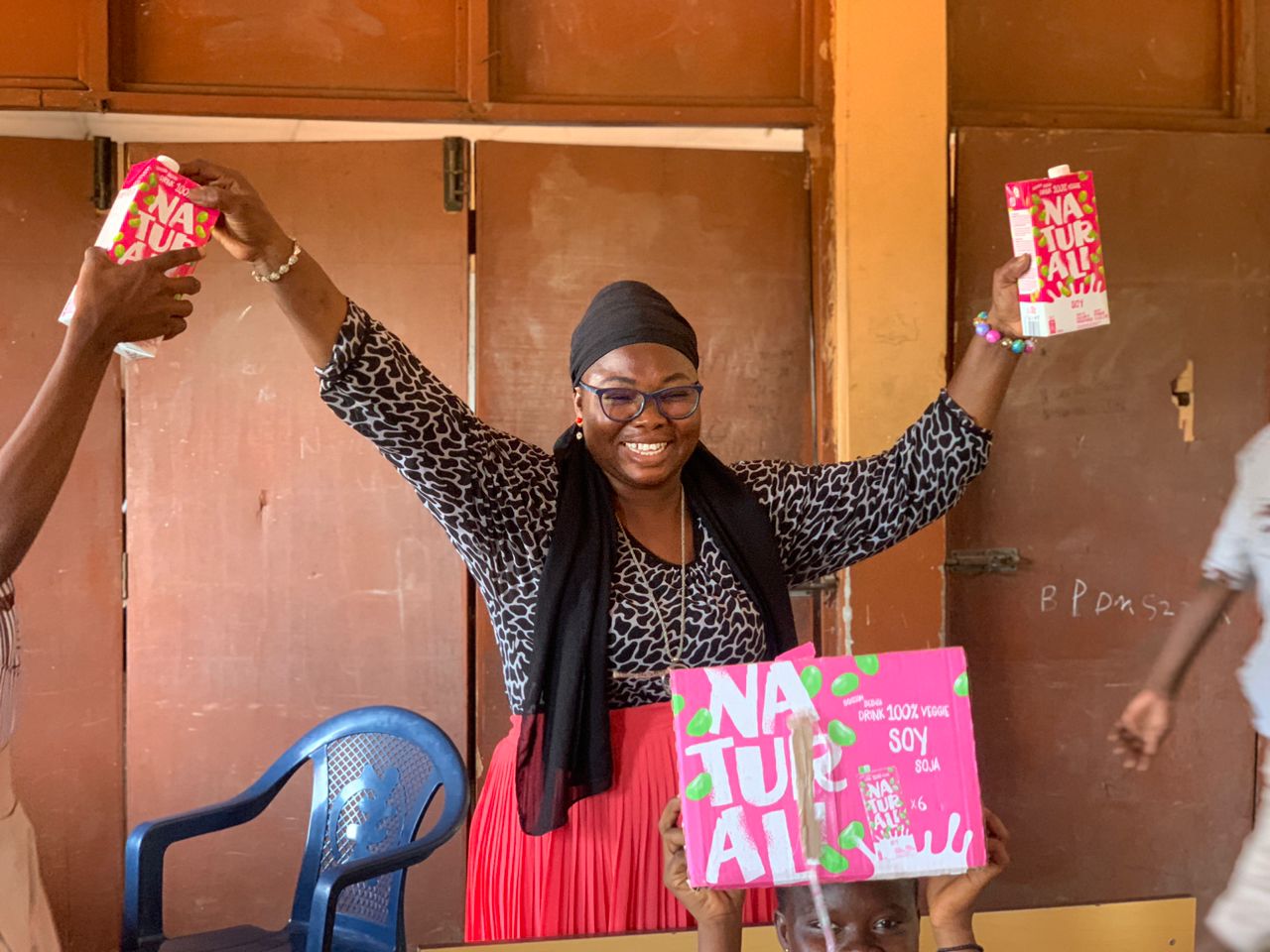 United Way Ghana received a generous donation of 1,903 vegetable milk drinks from Mafricom Ghana Limited, producers of Naturali and Alimo brand beverages. This gesture was part of Maficom Ghana Limited's commitment to supporting local communities and economies in Africa.

The drinks were distributed amongst the young learners, about 15 volunteers, facilitators, and over 35 teachers from LA Enobal Basic School in the LA Dadekotopon Municipality, and the Kanda Cluster of Schools ; Kanda AMA Basic, Islamic Training Institute Basic, Kanda Estate 3 & 5, and the Ring Road Basic School within the Ayawaso East Municipality.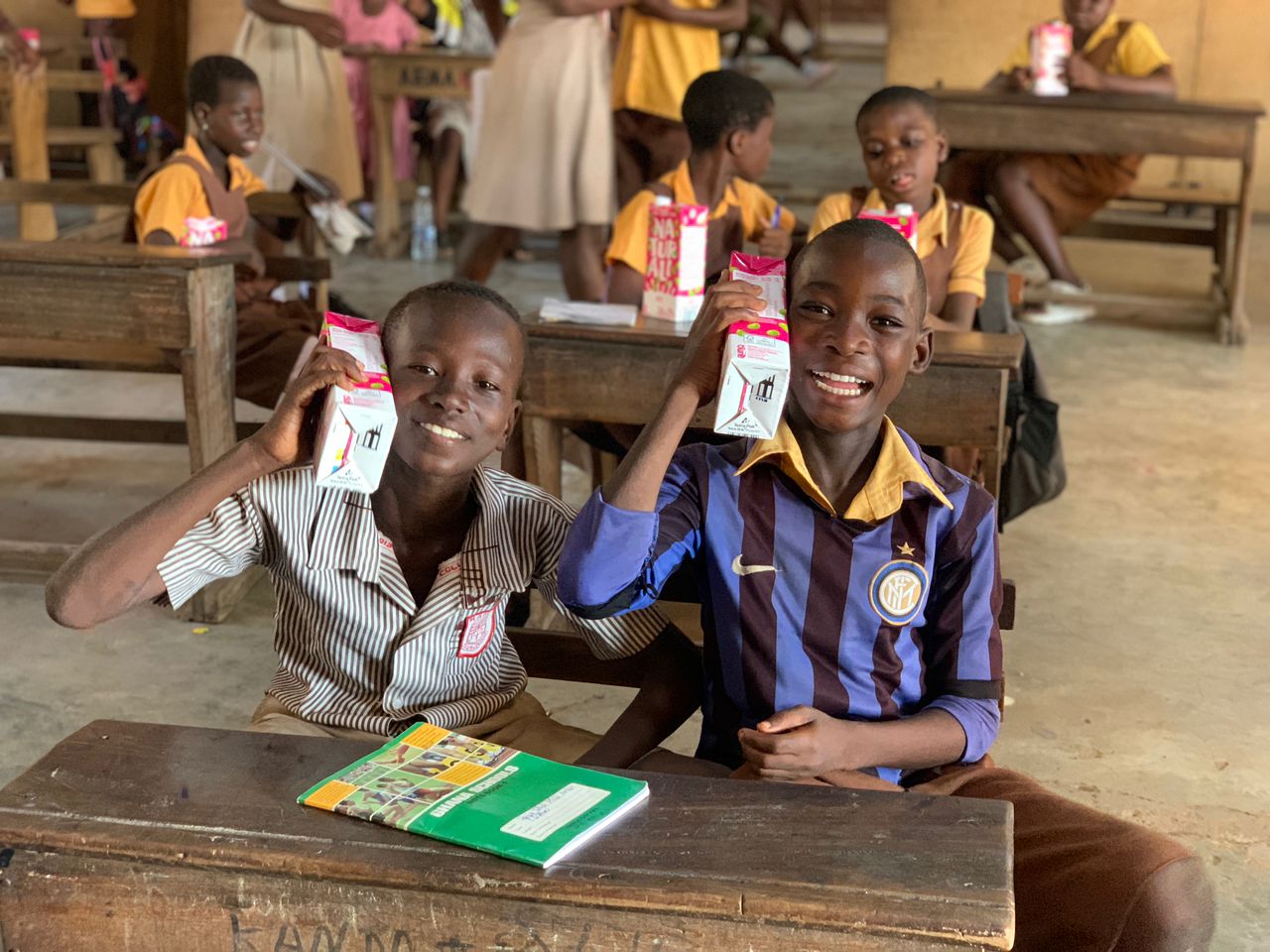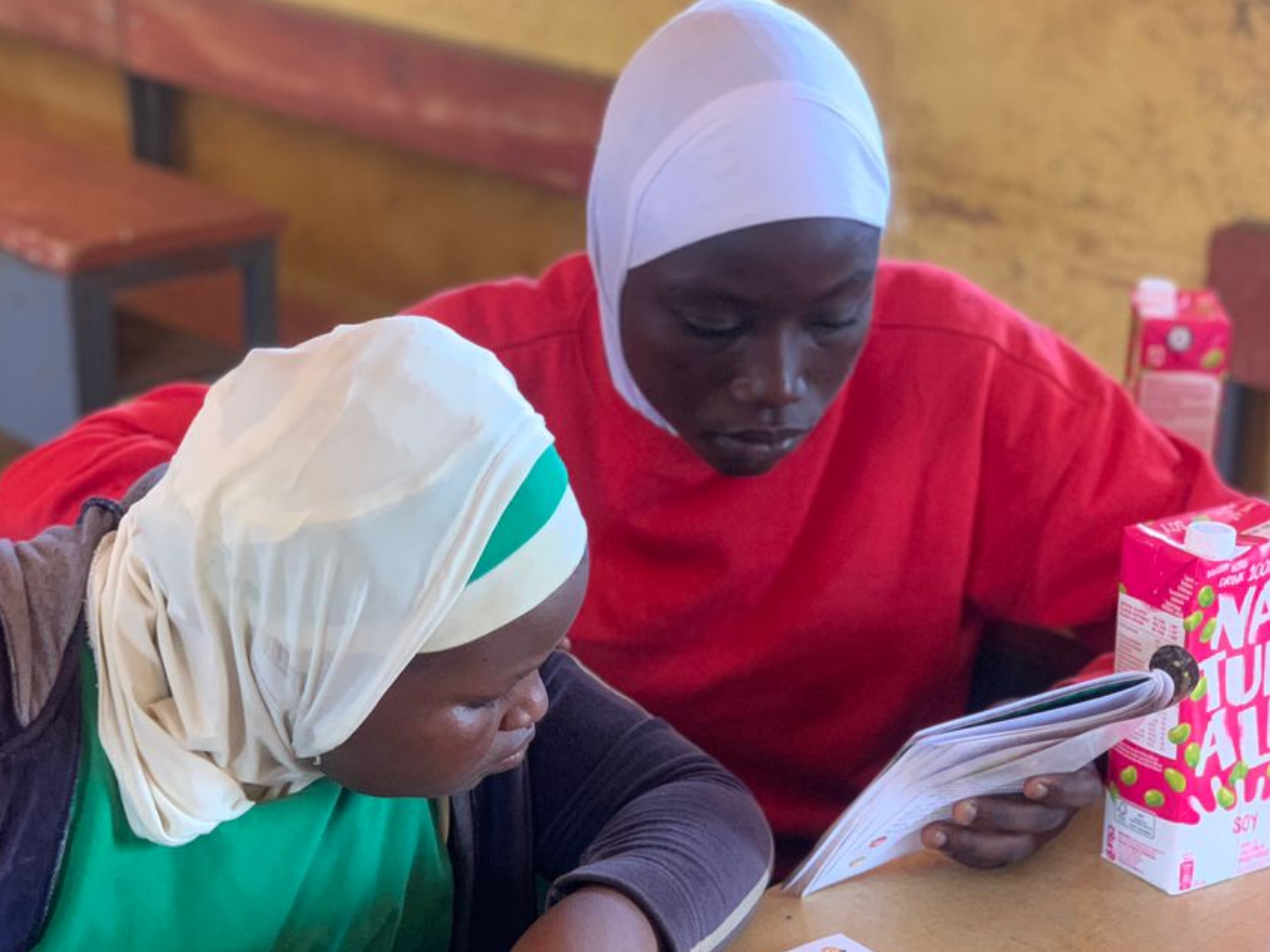 7. EXECUTIVE DIRECTOR OF UNITED WAY GHANA ATTENDS EVENT HOSTED BY THE AMERICAN CHAMBER OF COMMERCE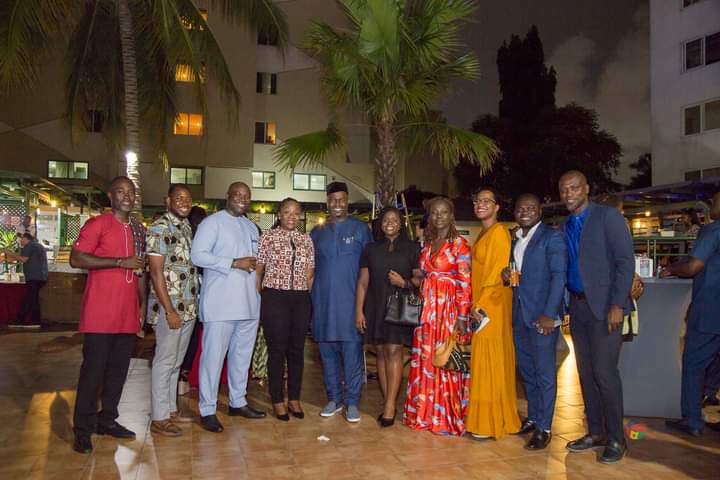 In the spirit of building strong corporate partnerships and sharing United Way Ghana's core values of equity, justice, and inclusivity in less privileged communities, Mr. Felix Kissiedu-Addi, the Executive Director of United Way Ghana attended a cocktail event hosted by the American Chamber of Commerce and the French Chamber of Commerce and Industry in Ghana at the Alisa Hotel in Accra.
The event aimed at offering a wider audience for all participating members to form positive connections with other business professionals and potential clients from the two chambers.
United Way Ghana remains grateful for this networking opportunity by AMCHAM and looks forward to more of these events which serve as a forum to pitch the organization as a corporate social responsibility partner of choice that brings value to potential corporate partners