UNITED WAY GHANA 2022 FIRST HALF NEWSLETTER
Posted on 2022-09-26
Table of Contents:
Cummins Ghana partners United Way Ghana to provide sustainable access to WASH at New Amakom M/A Basic School

Total Petroleum Energies engaged 1000 Children in Literacy and Coaching Activities in Accra and Kumasi

Cummins Ghana partnered UW Ghana and NSBE to organise a STEM Career Fair at the Odorgonno Senior High School
Welcome Remarks from Executive Director
Our Projects
UNITED WAY SUPPORTS BORTIANOR & DAMPASE COMMUNITIES  WITH STARTER PACKAGES 
As we work towards creating job opportunities for individuals in underserved communities, United Way Ghana as part of its Economic Empowerment Program equipped 54 residents of Bortiannor and Dampase with business starter packs.
These residents underwent skills development training in soap & detergent production, baking, and beads craft training for three months.   To ensure that they are work ready, United Way Ghana in collaboration with Engage Now Africa provided them with the required tools, equipment, and materials to enable them set-up micro businesses.
These businesses are being run successfully by the beneficiaries who are making a cumulative monthly profit of Ghcxx from production sales. This is helping them to contribute toward the upkeep of their families, something they were not able to do previously.
The Assemblyman of the Bortianor community, Mr Dan Bright expressed  appreciation to the organisations for coming  to the aid of the community all through the COVID-19 season. 'I am very happy, and believe that as the residents have put in the much needed effort in running the businesses, they would be able to raise money to feed their families and train others to also become self- sufficient' he said.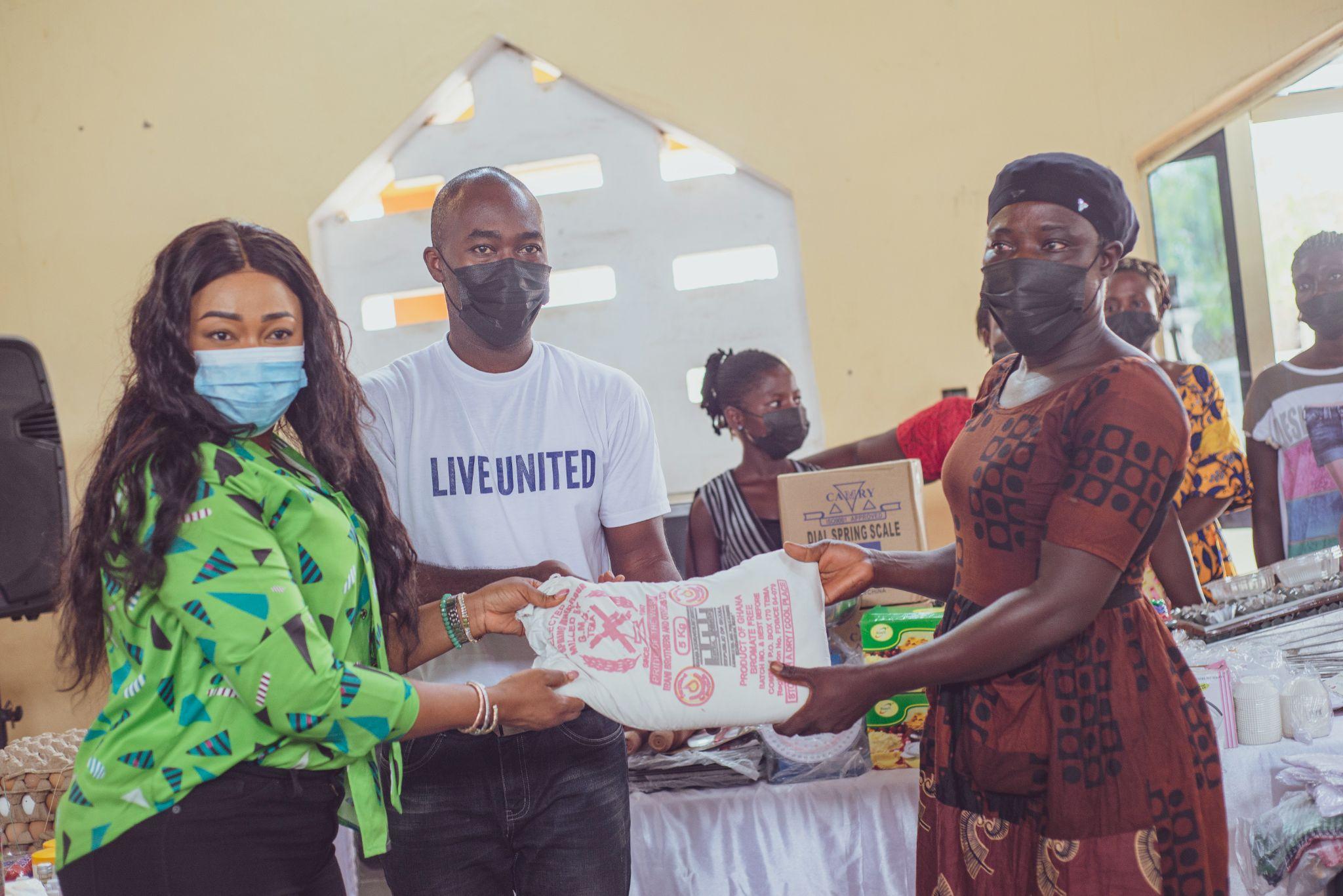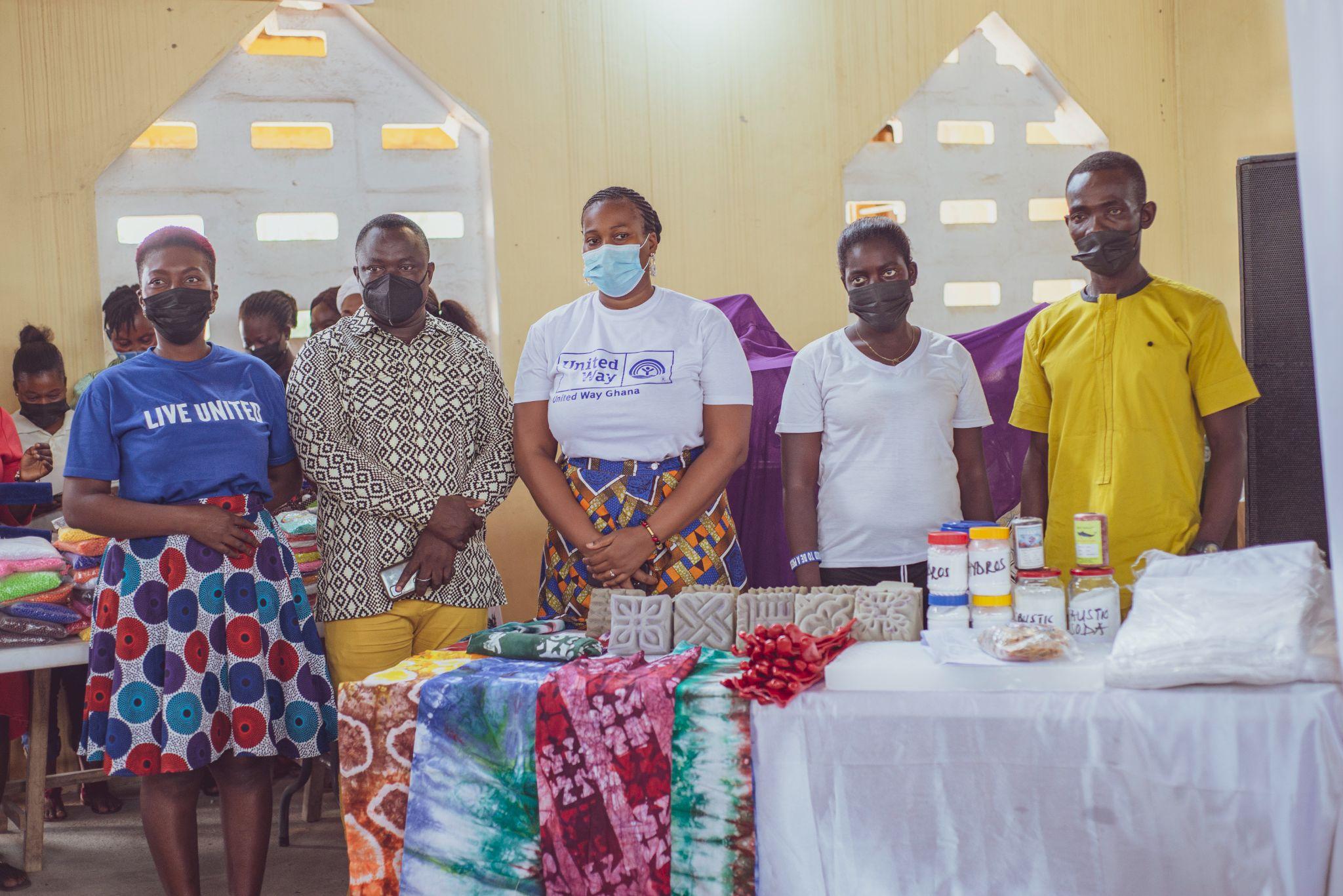 UNITED WAY GHANA PARTNERS VOICE CENTRE OF INCLUSIVE COMMUNITIES TO IMPROVE LITERACY IN AYAWASO MUNICIPALITIES
United Way Ghana partners Voice Centre for Inclusive Communities, a Community Based Organisation to improve childhood literacy in Ayawaso and its environs.

This partnership was borne from Newmont Ghana's Gold for Gold Reading Programme, which is focussed on improving childhood literacy and encouraging young learners to adopt reading habits.  The partnership between United Way Ghana and Voice Center for Inclusive Communities centres on a developed strategy to sustain the running of the Reading Oasis in Ruga, which was established by Newmont Ghana in partnership with United Way Ghana

The Reading Oasis is a United Way Initiative that creates an attractive and entertaining environment in a community to engage young learners in interactive literacy activities on Saturday's outside school hours.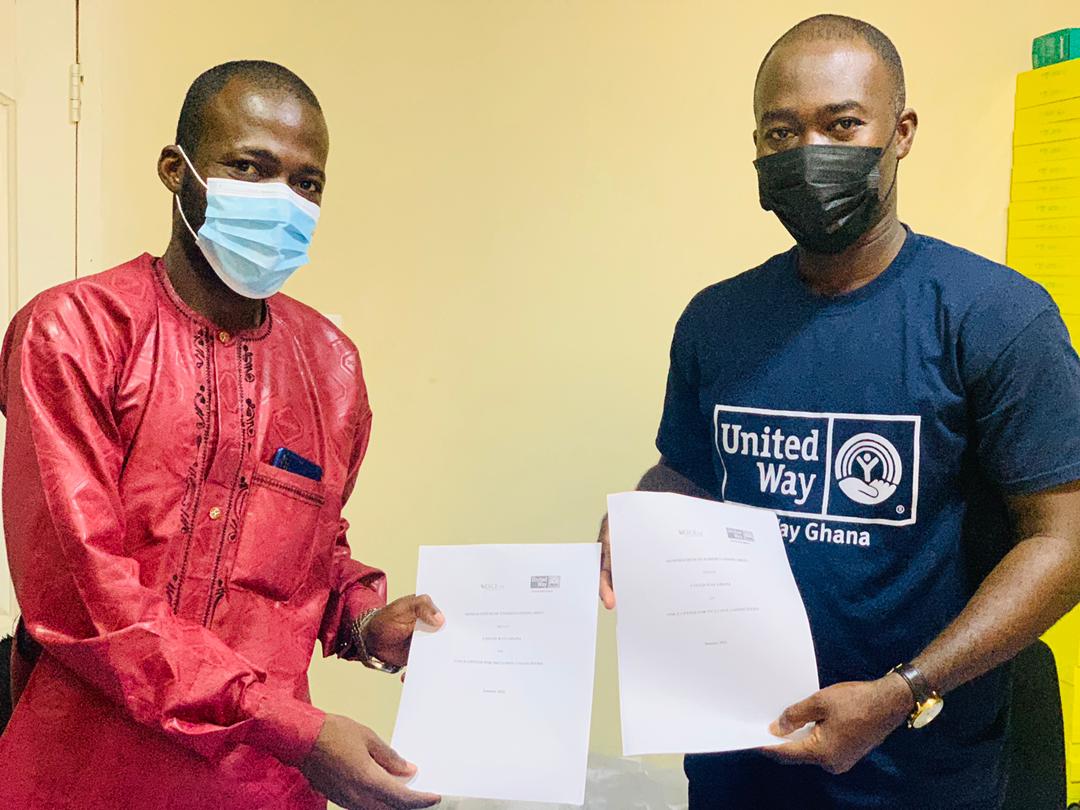 THE REIDMAN FAMILY SUPPORTS 91 YOUNG LEARNERS UNDER UNITED WAY GHANA'S SCHOLARSHIP PROGRAM
Every year, as children from average homes happily anticipate their return to school for the academic year, those from low income homes look forward to the new academic year with sadness. This is so because they anticipate the mockery they would receive from their peers due to the old uniforms, shoes, and bags they will be taking to school for the new academic year.  Some, too, foresee a lot of absenteeism as a result of their inability to access new exercise books for note taking and assignment.

For such children, United Way Ghana's scholarship program is their source of hope as it equips them with all the required school supplies for the new academic year.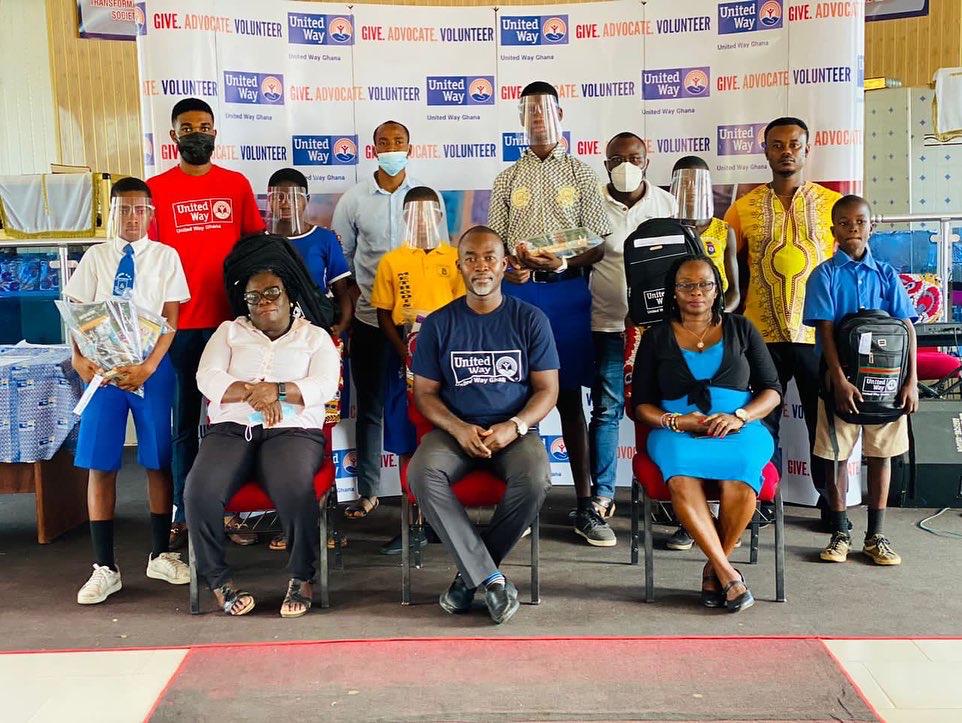 This year is no exception. Ninety-One (91) young learners in the Akuapem North District in the Eastern Region have been selected to benefit from this year's Scholarship Program. The scholarship for each child consists of a uniform, school bag, books, stationery, and age appropriate story books.  Hundred Girls have also been selected to benefit from this year's Girls Closet Project, creating an opportunity for them to be mentored and guided to succeed academically and in their social lives.These young learners were selected from Akropong MA basic school, Salem basic school, St. Joseph Aglican school, Abiriw SDA basic school, Okuapeman basic School, and Akropong Methodist basic school. As part of the program activities, parents and caregivers were sensitised on the need to involve themselves in key activities of their ward`s academics and social life.  A parent said:
"I just ensure that my daughter leaves the house every morning for school. I don't even know the class teacher`s name.  Sometimes a whole year passes by without me visiting her school. Today, I've realised it is not only about enrolling my child to school.  Being involved in her academics and friendship creates the opportunity to better know my child and support her in ways that will boost her confidence and  morale to learn and live a life a dignity."
IBM SOWS SEED IN THE LITERACY DEVELOPMENT OF 200 CHILDREN IN GHANA 

In honour of Dr. Martin Luther King, Jr. Day 2022, the IBM Black Network of New York partnered with United Way Ghana to mark the day with an activity dubbed "Sowing Seeds"  at Ayebeng Memorial A & B School inside  Kotobabi. The project focused on stirring interest in lifelong learning among lower primary pupils in the school. 
20 members of the  IBM Black Network of New York engaged 175 Young learners in a virtual reading session and discussion on future aspirations. A digital  Library asset that houses recordings of IBMers reading Ghanaian-authored folk tales was created to give opportunity to young learners who were not able to participate in the program to also benefit.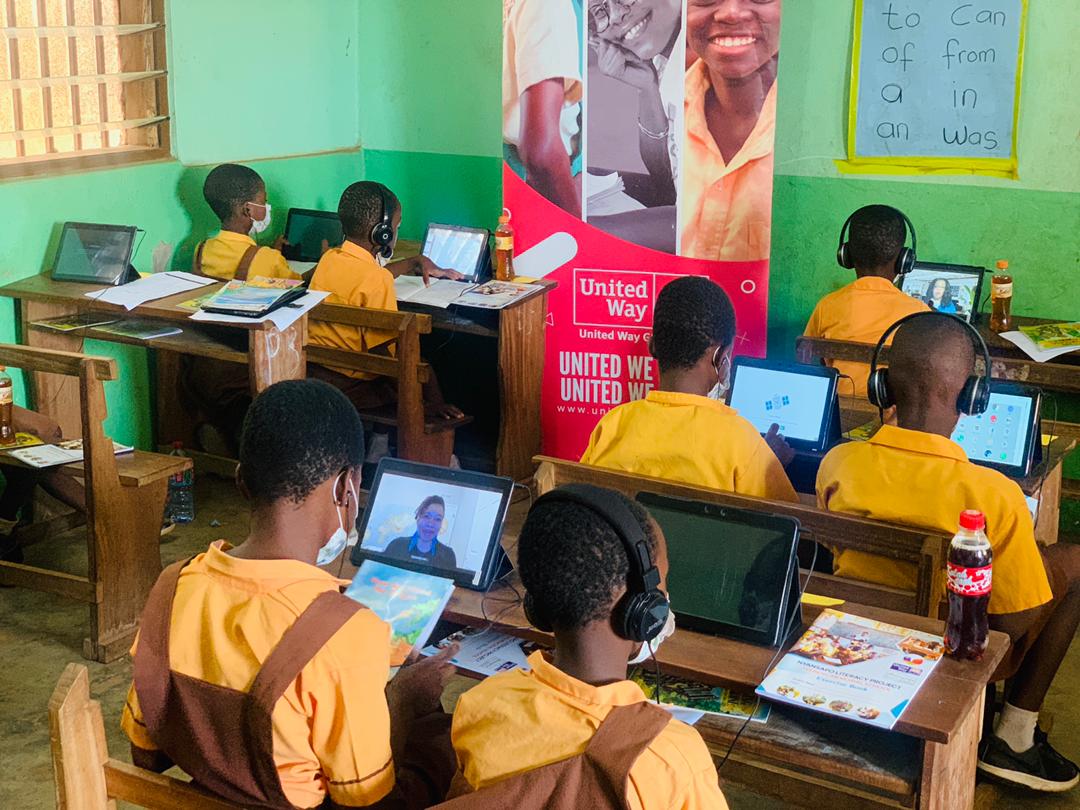 65 WOMEN RECEIVE STARTUP PACKAGES AFTER SKILLS DEVELOPMENT TRAINING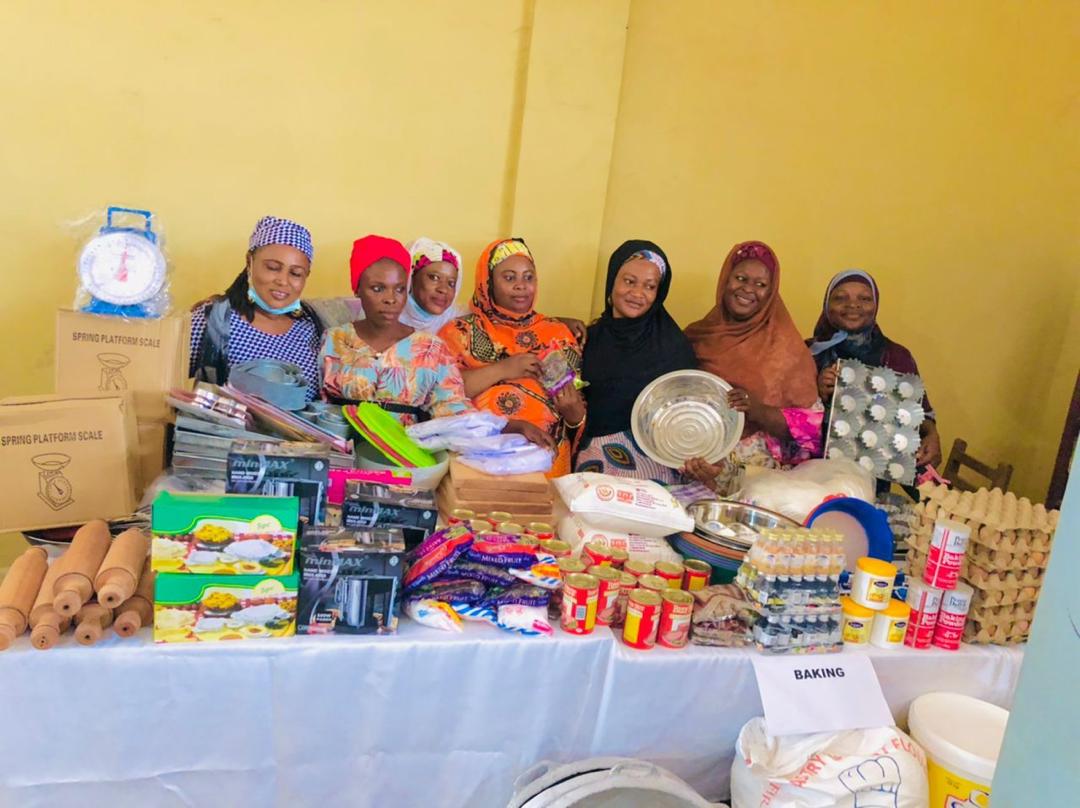 Proving individuals with start-up tools and equipment after equipping them with vocational and technical skills gives them a good start in the entrepreneurship journey. With support from the Larry McDonald Family, United Way Ghana supported 65 women with start-up packages to support their businesses after they had undergone a three-months training in Soap & detergent training, Baking and Ice Cream making.  This forms part of United Way Ghana's Socio Economic Development Program Activities in Sawaba, a community in Kumasi. 

The start-up package included commercial ovens, bags of floor, buckets of margarines, soap and detergent making materials, chest freezers, food scales, etc. At the event, the Sakir Zongo admonished the beneficiaries to put the materials and equipment to good use. 

United Way Ghana believes that every person should have an opportunity to improve their economic status, be able to support their families and live a life of dignity. 

This project is part of United Way Ghana's contribution in tackling  poverty in Sawaba by diversifying livelihood opportunities for individuals.
CUMMINS GHANA LIMITED AND UNITED WAY GHANA MARK INTERNATIONAL DAY FOR WOMEN AND GIRLS IN SCIENCE 
The Commemoration of the International Day for Women and Girls in Science is a call for societies to ensure full and equal access to and participation in science education,research and careers of women and girls. 

Cummins Ghana limited and United Way Ghana marked the Day with 100 Junior High school girls of the Laterbiokorshie Cluster of schools on the theme Equity, Diversity and inclusion 

Employees had the opportunity to speak to these brilliant young girls and inspired them to take advantage of the learning opportunities and harness their potentials in Science, Technology, Engineering and Mathematics (STEM).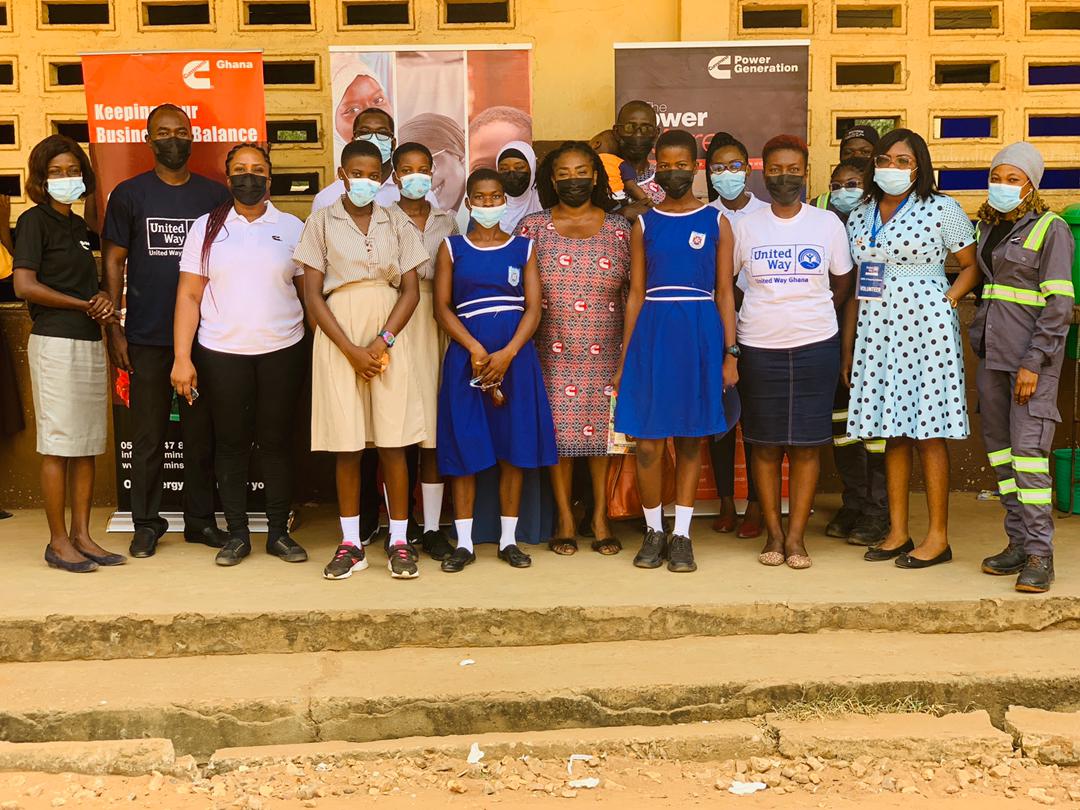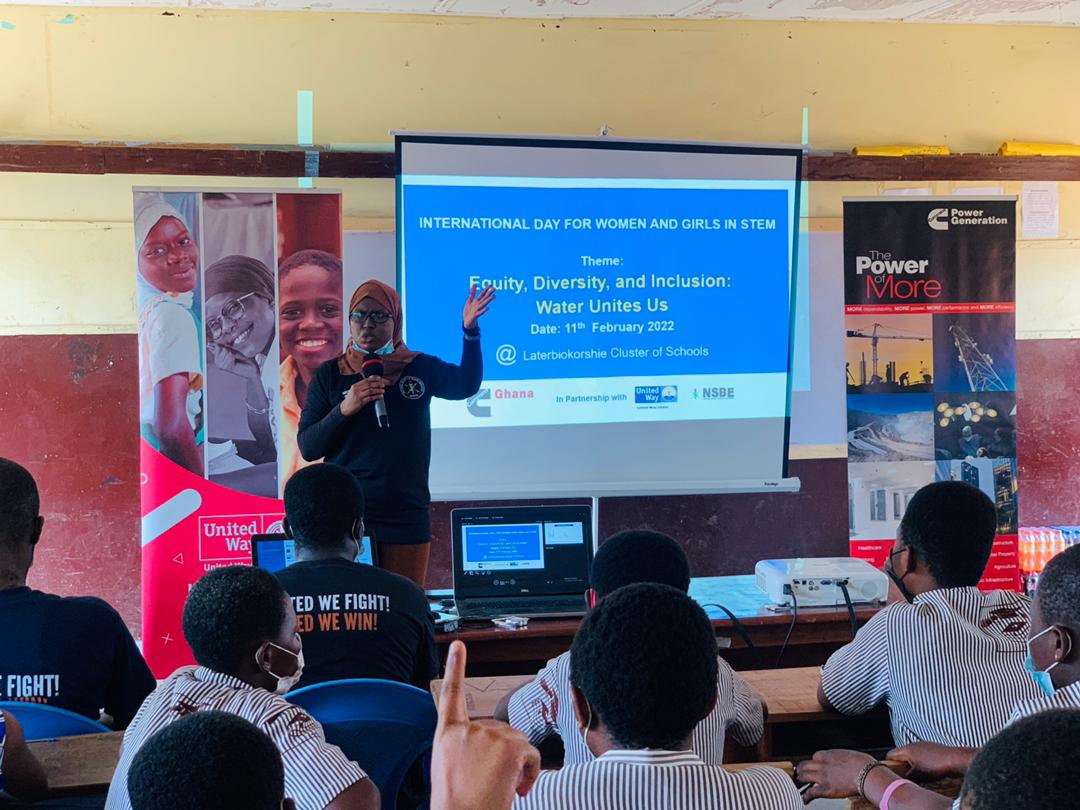 FORD MIDDLE EAST SUPPORTS AN ECONOMIC EMPOWERMENT TRAINING FOR YOUTH OF AKROPONG. 

As the renowned novelist Pearl S. Buck once affirmed "the test of a civilization is in the way that it cares for its helpless members", 

Ford Middle East in Partnership with United Way Ghana supported 30 young men and women in Akropong under a Socio Economic Development Program.   Through this partnership, United Way Ghana is creating job opportunities for the youth in Akropong by training them in viable production skills and equipping them with tools and materials to set up small scale businesses.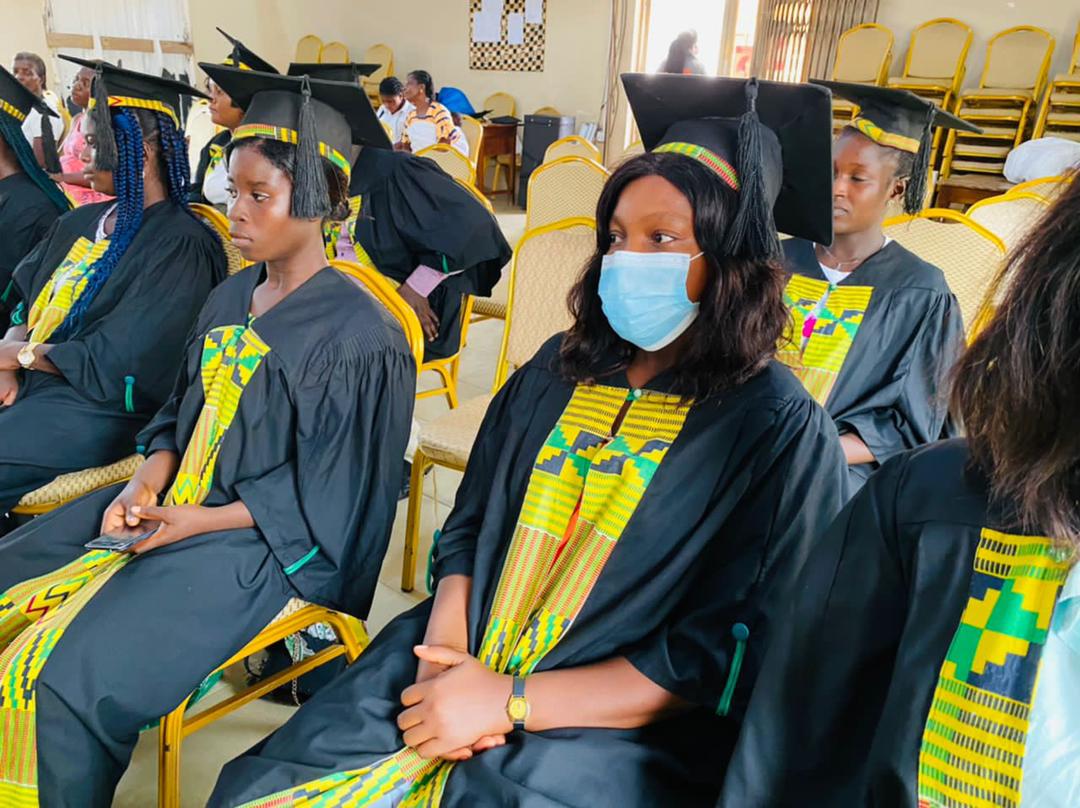 STANCHART PARTNERS UNITED WAY GHANA TO MARK  INTERNATIONAL WOMEN'S DAY

Standard Chartered Bank in partnership with United Way Ghana marked International Women's with "Goal" activities for pupils from the Kaneshie Bishop 1& 2 primary school and Junior High School.

As part of the activities, 22 female staff from Stanchart engaged 274 girls from the Upper primary and Junior High section of the school in Goal Games-which is a flagship education programme for future makers by Standard Chartered. This is a global initiative to tackle inequality and promote economic inclusion, through a fun play-based outdoor activity that focuses on "goal" life skills, adding movement, competition and physical activities-including a 2 hour speed mentoring on money saving, being yourself, being healthy and being empowered.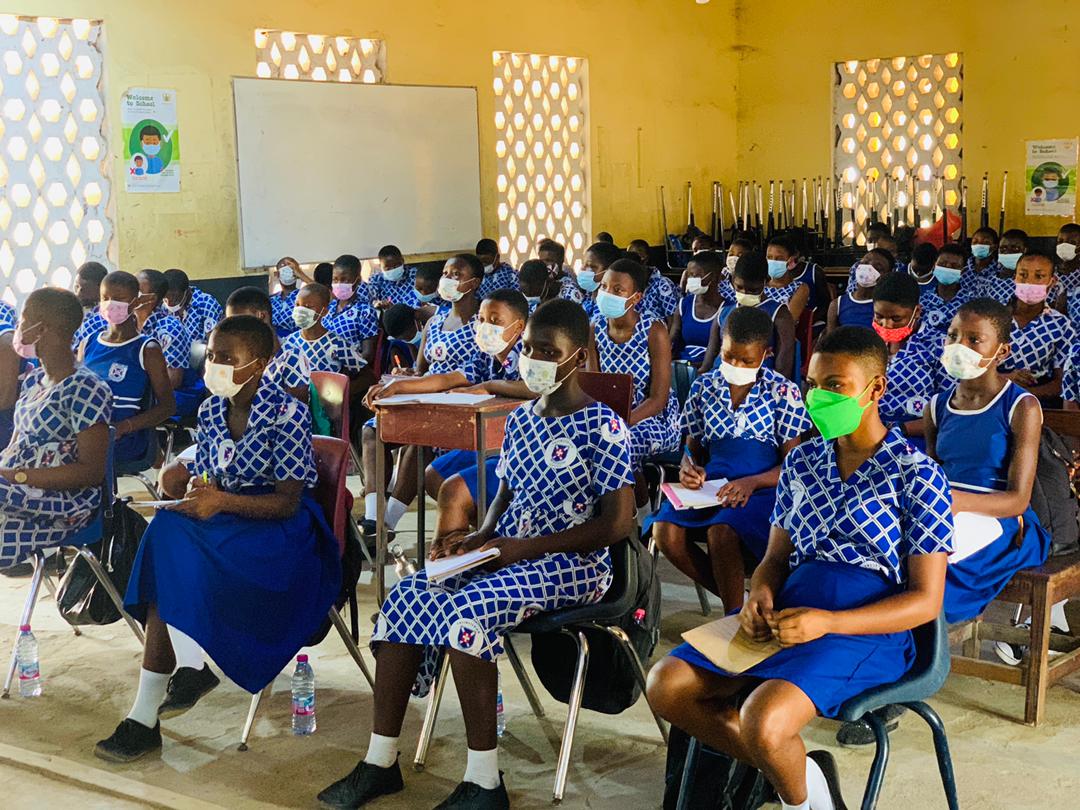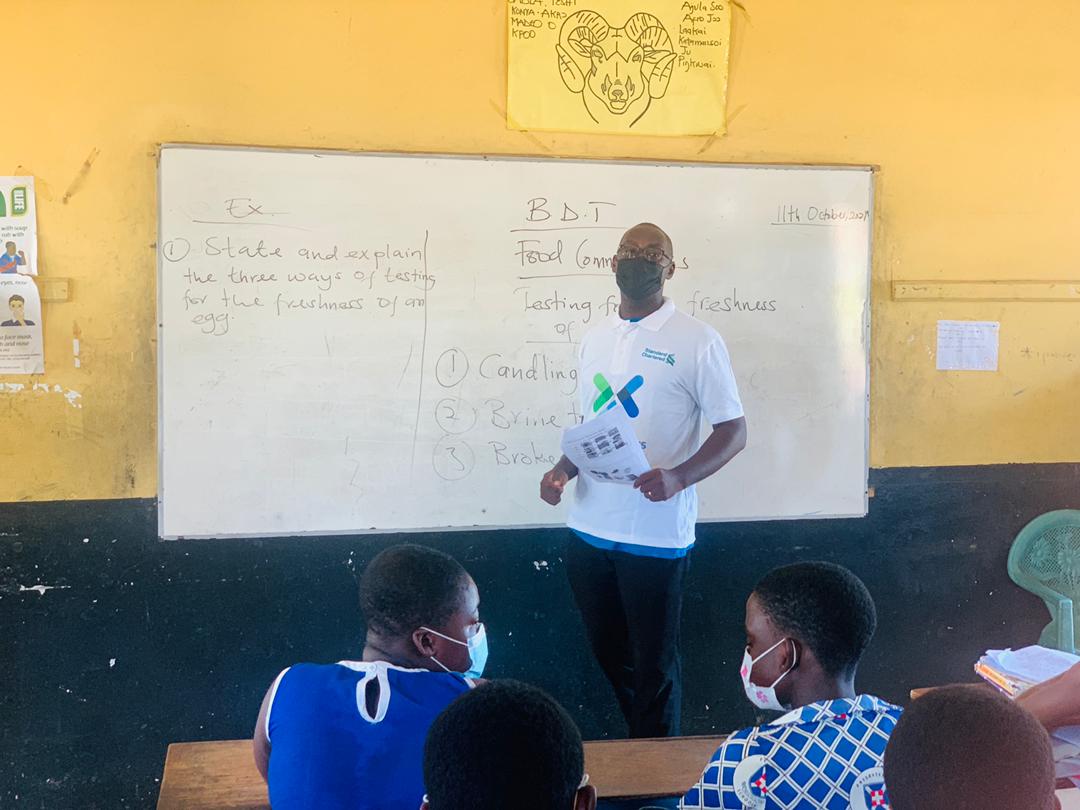 Speaking to the media, Head of Corporate Affairs, Brands and Marketing -Asiedua Addae said the bank used the International Women's Day(IWD)  as an opportunity to give back to society what they had received by mentoring the pupils.


Executive Director of United Way Ghana- Felix Kissiedu-Addi , said "Women are the backbone of our economy. At United Way Ghana , we believe in creating equal opportunities for everyone especially, for opportunities for girls and women. We do this by championing interventions that create an enabling environment for girls and women to identify their skills and talents.
CUMMINS GHANA PARTNERS UNITED WAY GHANA TO PROVIDE SUSTAINABLE ACCESS TO WASH  AT NEW AMAKOM M/A SCHOOL
Cummins Ghana Limited partnered with United Way Ghana to remove Water Sanitation and Hygiene (WASH)-related barriers that impede young learners' ability to access quality education.
The partnership between Cummins Ghana Limited and United Way Ghana has made it possible for the New Amakom Basic School in Kumasi to have an ultra-modern toilet facility to address WASH-related absenteeism in the school, which was an issue of great concern.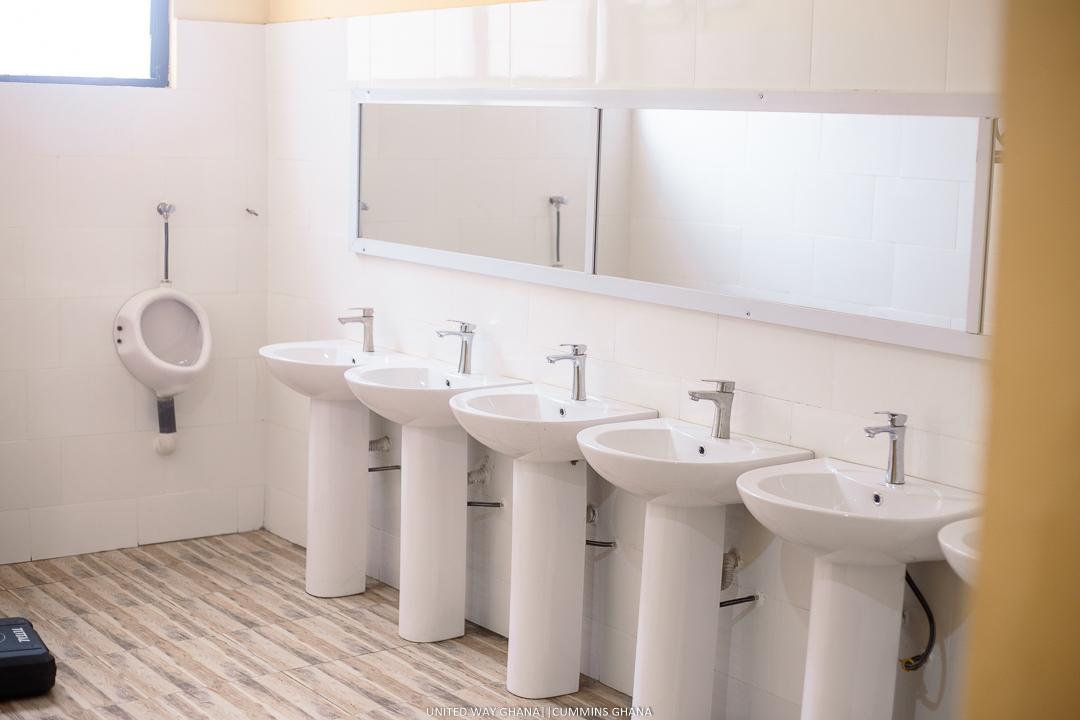 The newly constructed washroom facility essentially comprises a mechanised borehole to ensure the continuous flow of water; modern 20-seat toilets to serve 508 pupils and 14 teachers, and two (2) overhead water tanks. The facility also has urinal and hand washing sections for both the male and female pupils.
To complement the project, assure good maintenance and project sustainability, United Way Ghana facilitated the set-up of an Environmental Club. As part of the Environmental Club's activities, young learners are educated on personal hygiene, waste management and its importance, recycling waste into useful products, and proper use and maintenance of the washroom facility.  The school has been provided with all needed resources: such as dustbins, Veronica buckets, hand washing soap, tissues, cleaning detergents and tools to ensure that they are well-equipped for the various sanitation and sustainability activities.
"This project will curb the problem of some students asking permission to use the public washroom but do not come back, which has affected class attendance. Thank you, Cummins Ghana and United Way Ghana for bringing this timely project to Amakom," said Mrs. Ellen Obuobisa, Headmistress-New Amakom M/A JHS.
TOTAL PETROLEUM ENERGIES ENGAGED 1000 CHILDREN IN LITERACY AND COACHING ACTIVITIES IN ACCRA AND KUMASI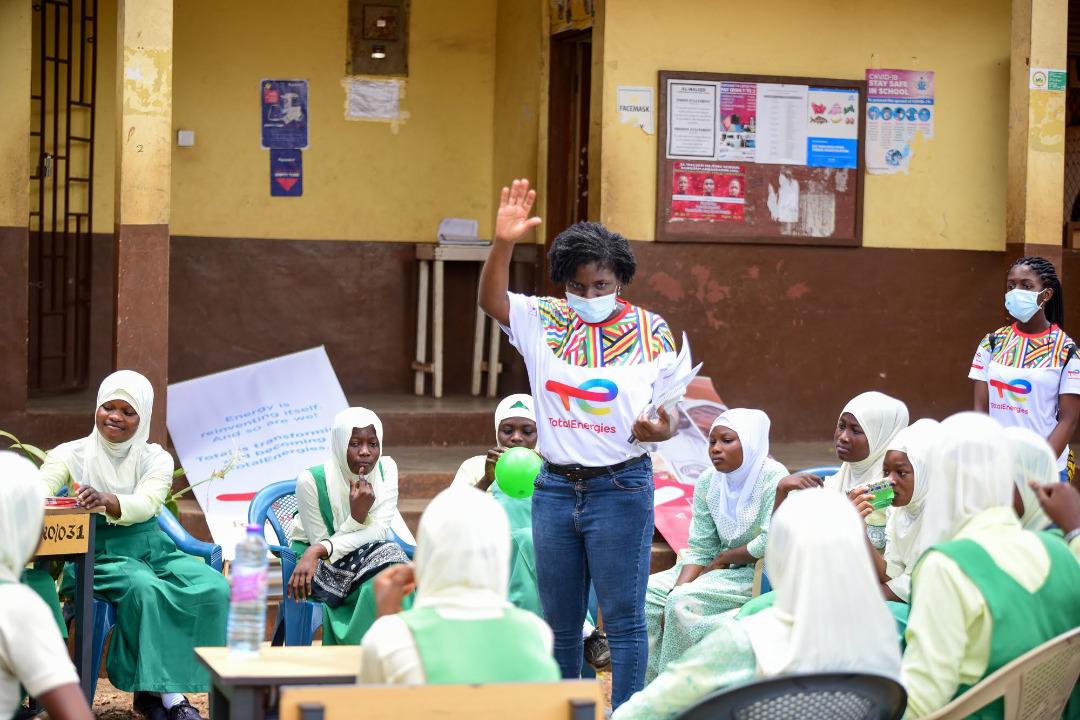 As part of United Way Ghana's Employee Volunteer Engagement program, in partnership with Total Petroleum engaged pupils in Kumasi and Accra in a Day's mentorship and reading program. The goal of the program was to support the pupils in reading activities and donate some story books. 11 employees from the Total Petroleum Kumasi office joined the pupils at Adukrom Presby school to mark this event. 300 story books were also donated to the school.
In Accra, 19 employees from Total Ghana PLC, engaged the learners on topics  like Time management, Goal setting, Sexual Reproductive health, Life after JHS, Personal Hygiene  and Menstrual Hygiene. Each learner received a handout on Young learners` guide to self improvement developed by United Way Ghana, with support fromTotal Ghana PLC.
UNITED WAY GHANA MEETS MINISTRY OF EDUCATION TO DISCUSS SOCIO-ECONOMIC DEVELOPMENT PROGRAM 

On 5th May, 2022. The United Way Ghana team led by Mr Felix Kissiedu-Addi, The Executive Director  paid a courtesy call on the Minister for Education, Dr. Yaw Osei Adutwum to discuss common strategies to expand our impact work and collaborations in attaining Sustainable Development Goals in Ghana.

The collaboration with the Ministry of Education, will give the needed leverage to scale up United Way Ghana's 'Improving Basic Education Program'.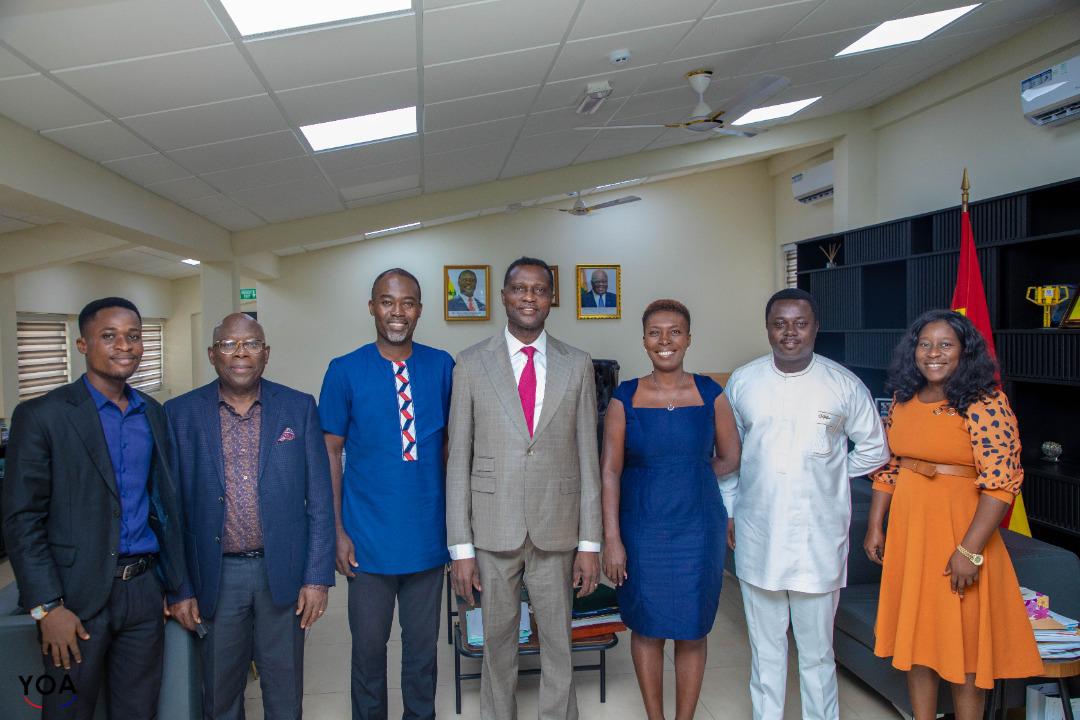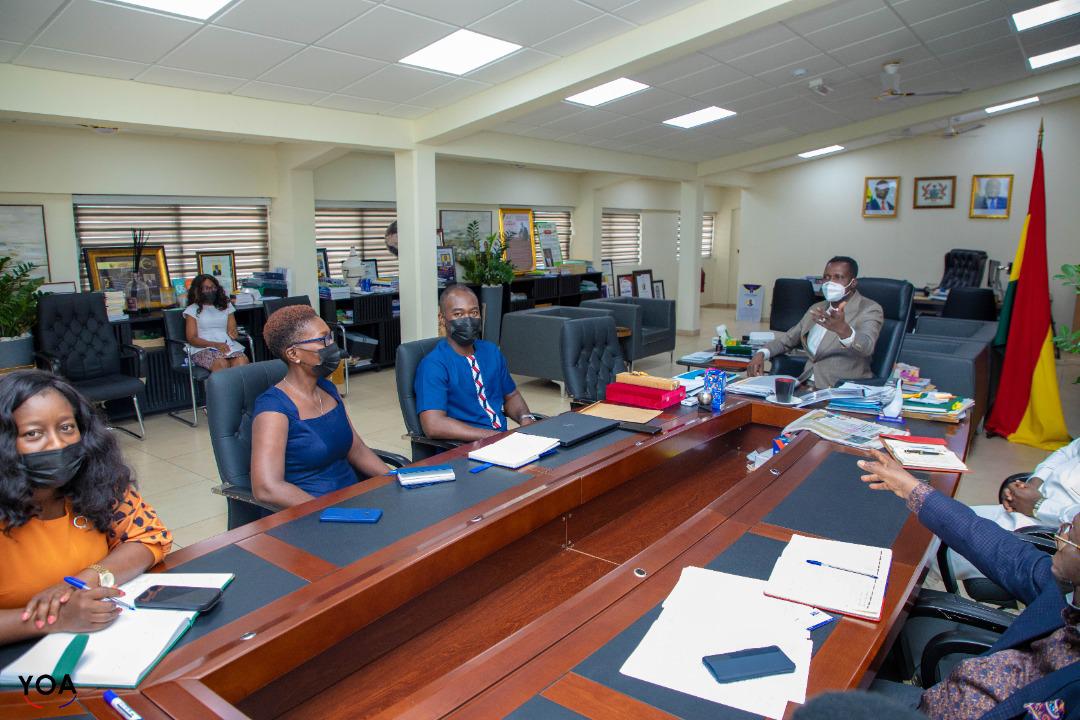 UNITED WAY GHANA PARTNERS MOREPLEX AND NY GRAPHICS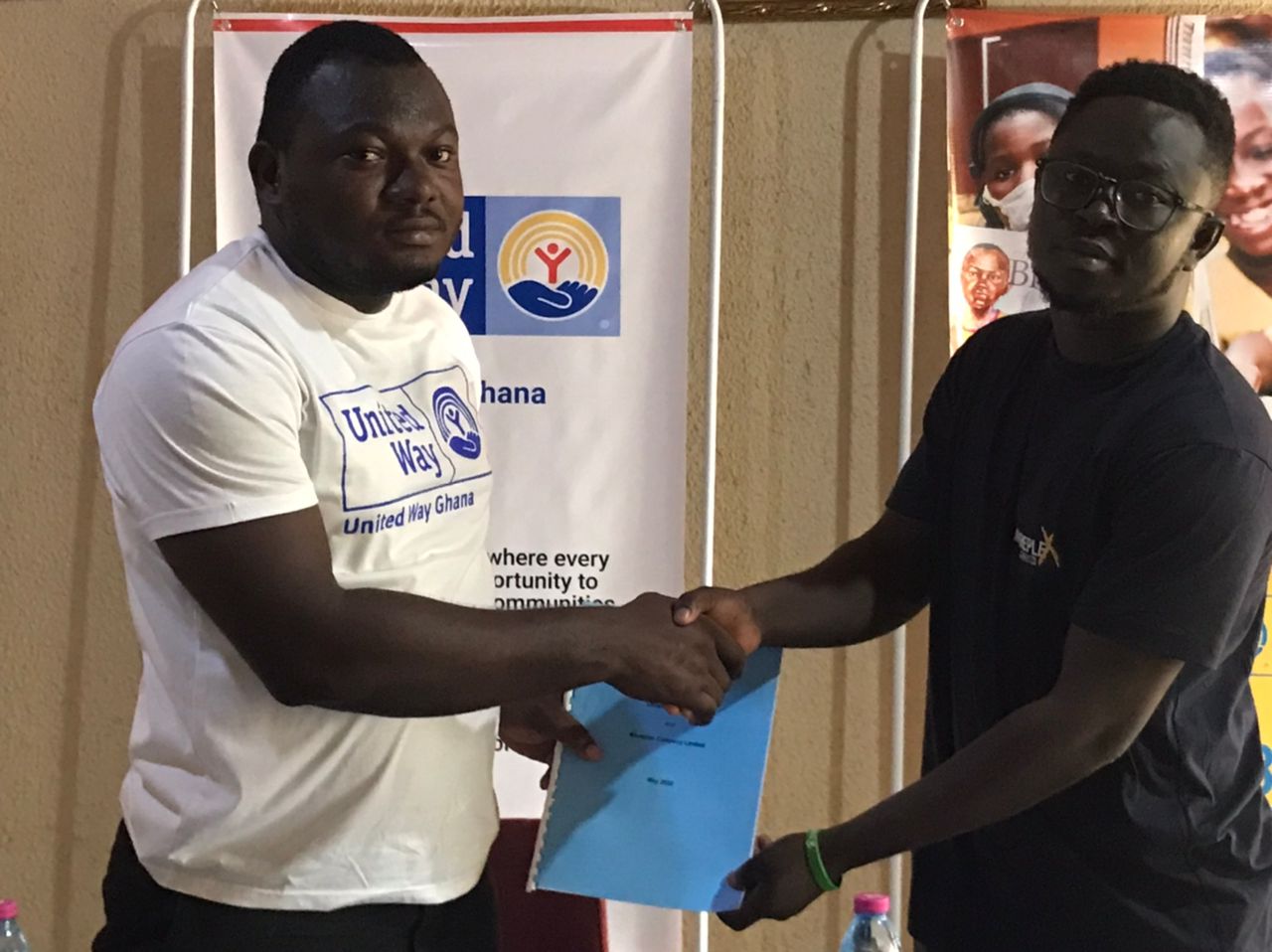 United Way Ghana continues to build partnerships that bring transformation in the lives of individuals and families. According to Helen Keller, "Alone we can do so little; together we can do so much." That is why United Way Ghana continues to foster new partnerships to make the desired impact in our beneficiary communities.

United Way Ghana has entered into a partnership with Moreplex Company Ltd and NY Graphics to expand and implement Economic Empowerment projects in Apiadu, Ashanti Region.  An Mou was signed on 9th May 2022 to officialie the partnership.
Mreplex is a company that seeks to contribute to the renaissance of Women empowerment by training and employing rural women in soap making.

NY Graphics is a full service print shop for large and small businesses as well as specialising in personal printing like invitations, announcements and more. NY Graphics offers everything from digital, offset and letterpress printing to commercial grade binding services.

United Way Ghana, Moreplex and N.Y Graphics and multimedia share a commitment to improve lives and change community conditions by creating entrepreneurial skill based opportunities for unemployed or underemployed individuals.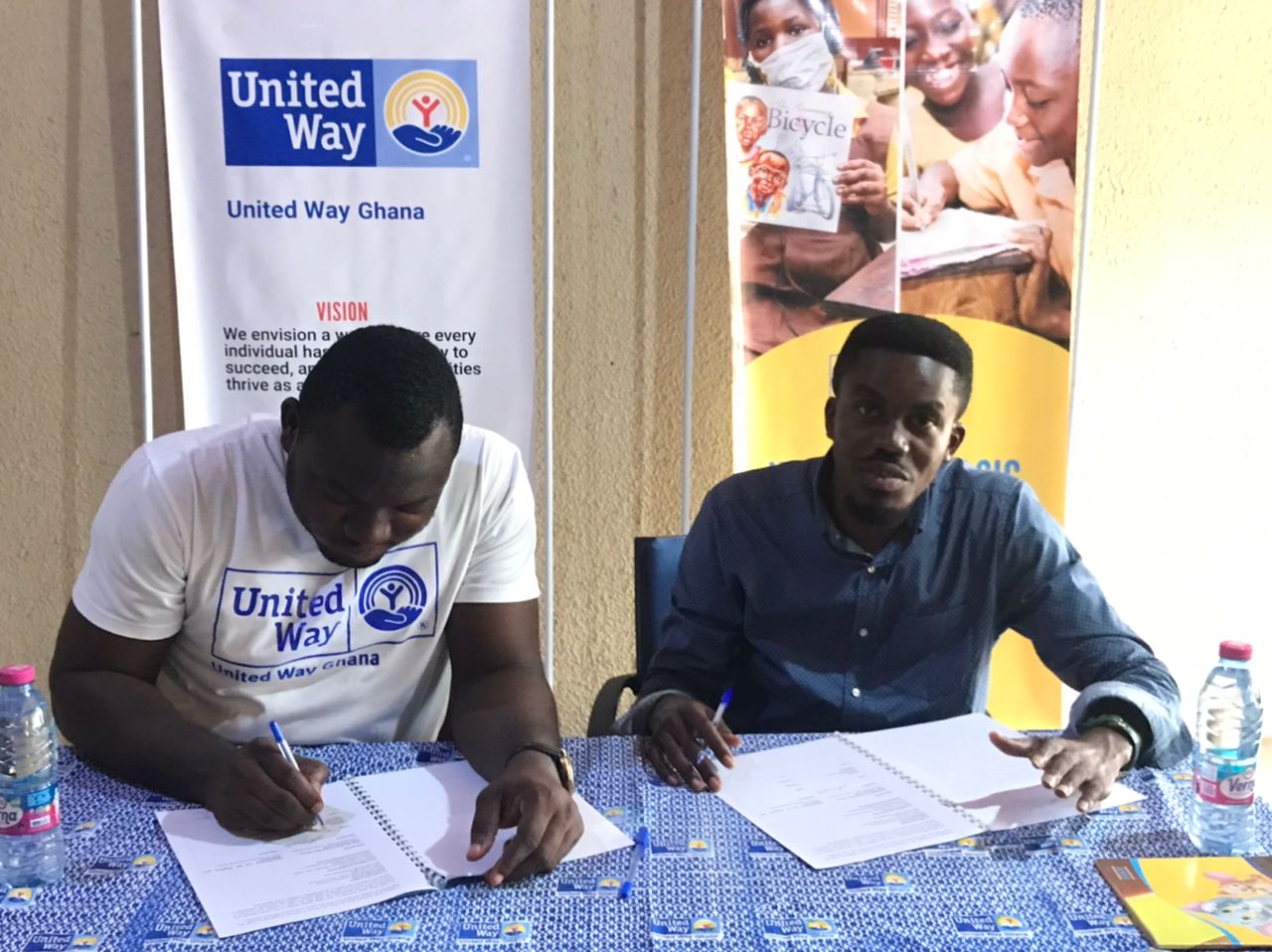 APPAIDU COMMUNITY  BENEFITS FROM SOCIO-ECONOMIC DEVELOPMENT PROGRAM 

With support from the Larry Macdonald Family, United Way Ghana has extended its Economic Empowerment Program to support 40 individuals who have been affected by the downturn in employment due to the COVID pandemic.
Collaborating with the key community stakeholders, United Way Ghana launched the Program at a ceremony on 24th May 2022 at the community durbar grounds.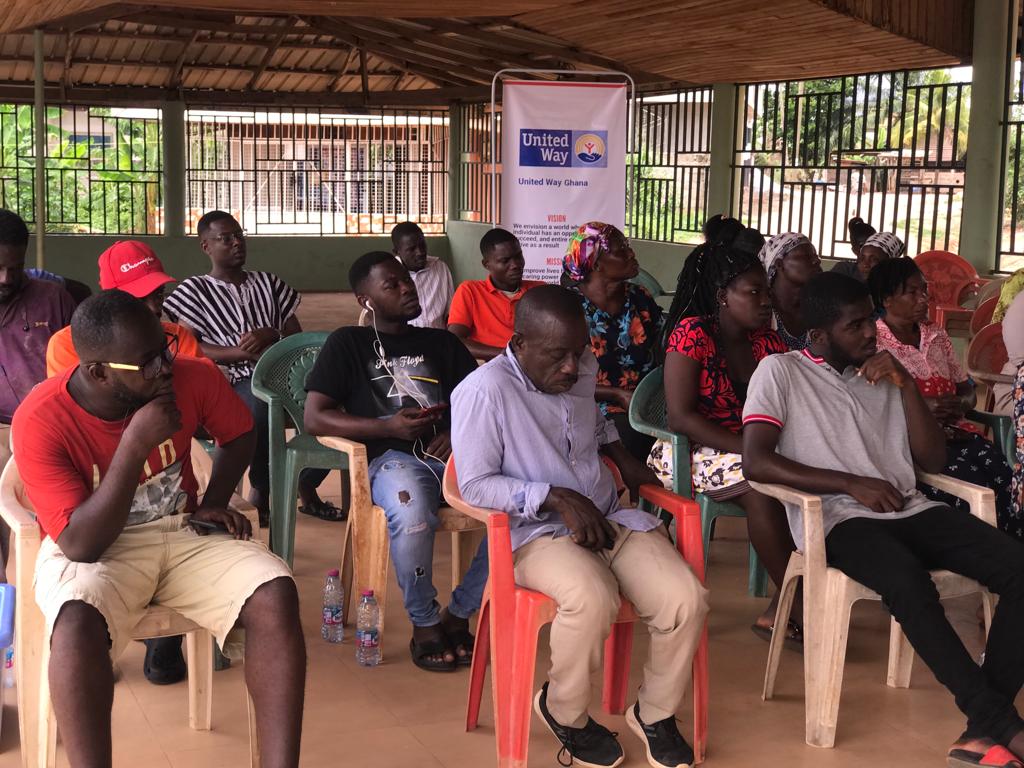 The project is engaging beneficiaries of soap and detergent production, desktop publishing, screen printing, and livestock rearing (Rabbit and Grass cutter). As part of the training modules, the beneficiaries will be taken through financial literacy training and business management sessions to hone their entrepreneurial skills and abilities.
The animal Science division of Kwame Nkrumah University of Science and Technology has been engaged to facilitate the Livestock Rearing training, while Moreplex manages the soap and detergent production.  NY Graphics is managing the desktop publishing and screen printing training. 
CUMMINS GHANA PARTNERED UW GHANA AND NSBE TO ORGANISE A STEM CAREER FAIR AT THE ODORGONNO SENIOR HIGH SCHOOL

As part of United Way Ghana`s STEM program, Cummins Ghana in partnership with United Way Ghana and National Society of Black Engineers (NSBE) on   May 13, 2022 graced the STEM career fair organised by the Odorgonno SHS STEM club. The purpose of the fair was to introduce learners to different courses and career opportunities in STEM.

In attendance were the school`s management board, 15 representatives from Cummins Ghana, 4 staff from NSBE, 3 representatives from Academic city College , a representative from Developers in Vogue, 2 representatives from INOVTECH, the final year students of Odorgonno SHS, the STEM club members, and 5 United Way staff.

Madam Doris from Cummins in her remarks outlined the importance of taking a career path in the STEM field. She admonished students present to be intentional and invest in their academics. Mr. Felix, the Executive director of United Way Ghana added that Cummins Ghana and United Way Ghana believe that all learners should be given equal opportunity to explore different fields in the STEM field, therefore ladies should take the opportunity of the STEM club initiative to build themselves, because there are a limited number of women in that field.

After these remarks, Learners present were educated and empowered through a panel discussion on career aspirations and areas to explore in higher learning in STEM. There was a breakout session where learners were taken through steps in identifying their strengths and weaknesses in the STEM related field and how to use them to their advantage.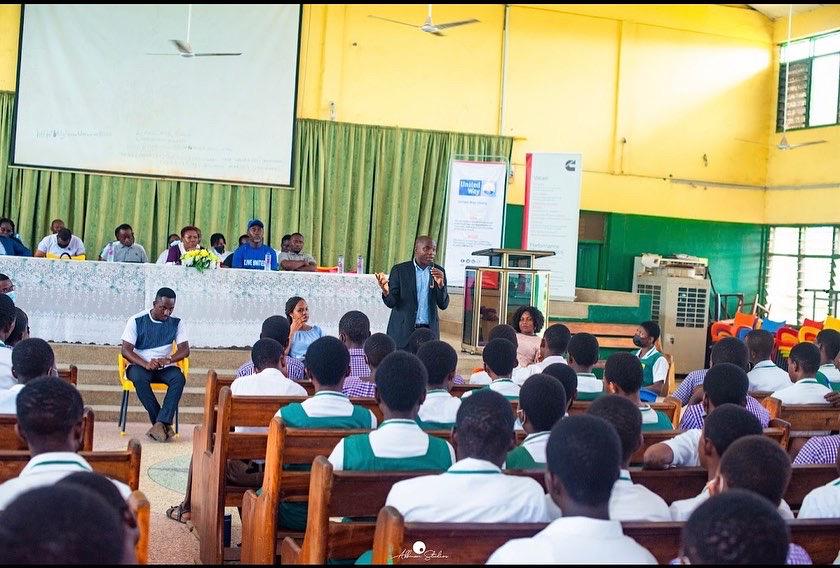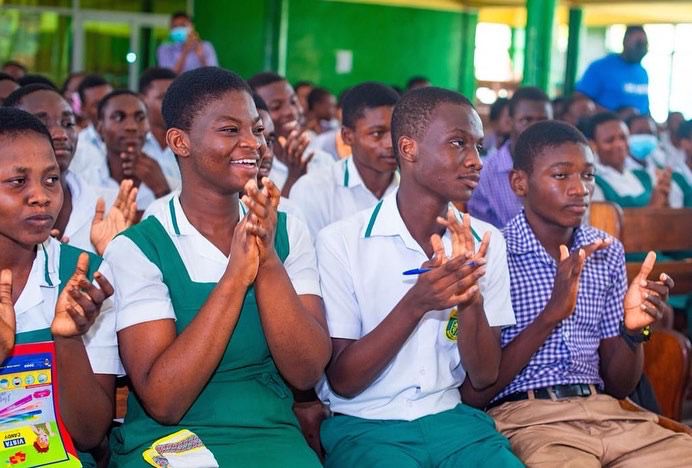 DZORWULU SPECIAL SCHOOL BENEFITS FROM STANCHART'S DIVERSITY AND INCLUSION PROGRAM

Standard Chartered Bank and United Way Ghana have taken steps to build a long-lasting relationship with the Dzorwulu Special school as part of its diversity and inclusion agenda.
Standard Chartered Bank, led by Ms Millicent Clarke, Head of Human Resource for Africa and Middle East and Andy Maclean. Global Head of Organisation & People Capability, together with United Way Ghana presented groceries such as rice, beans, flour, frozen, fish, frozen chicken, tomato puree among others and work books to the Dzorwulu Special School. These items will support the upkeep of the 205 children at the school.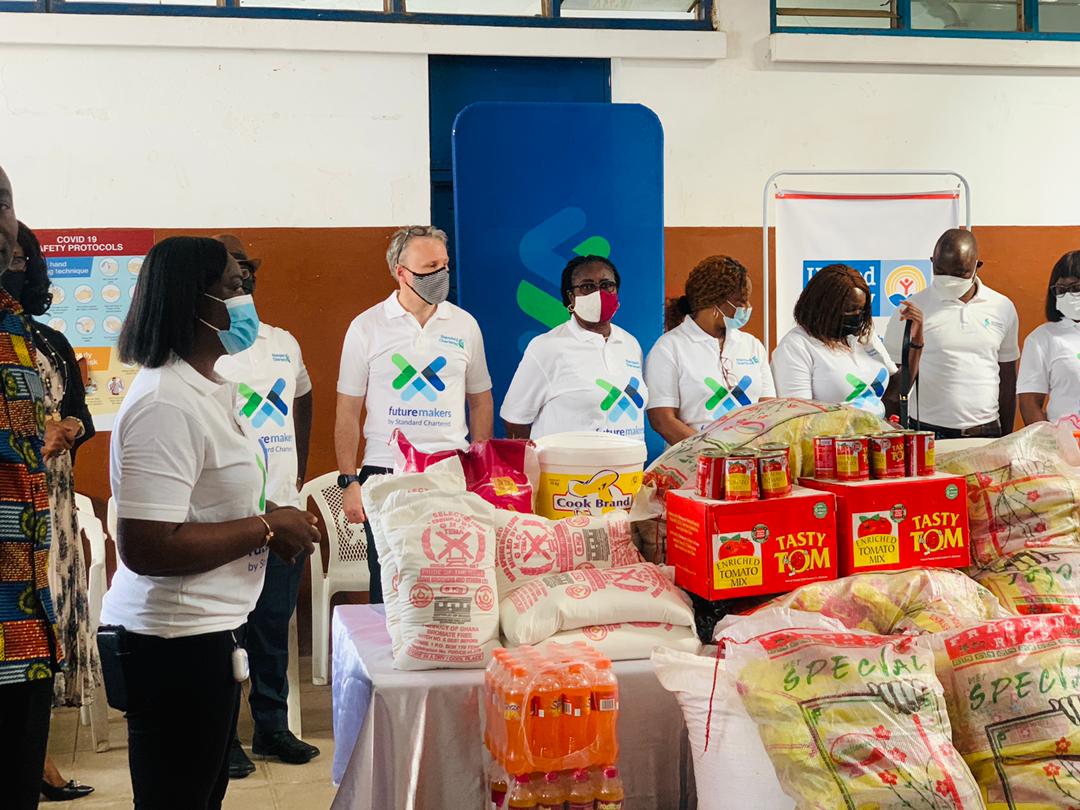 The pupils at the school also  engaged the staff from Stanchart Bank in some of the skills they have acquired at the school such as the production of arm rest and fluffy ball from fabric, and beads craft.
Principal for the Dzorwulu Special school, Mr Fred Tetteh, expressed excitement about the time the employees spent with the children.  He indicated that such engagements instil hope of a brighter future for them outside their school wall.